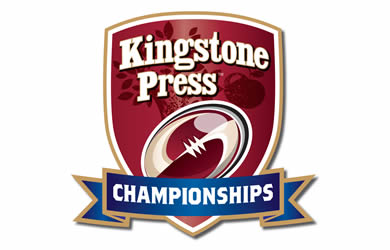 Championships sponsor Kingstone Press has awarded 23 super supporters of the rugby league Championships with the title of 'King of the Fans'.
Each winner represents one of the 23 clubs across the Championship and Championship 1, having either put themselves forward for this accolade or being nominated by a fellow fan. Entries were judged by representatives from Kingstone Press Cider, The RFL and LoveRugbyLeague.com, who were looking for those that stood out for their loyalty and dedication to their clubs, as well as the sport.
The 23 King of the Fans will receive a crate of Kingstone Press Cider along with a family ticket to Championships Finals Day, where they will be welcomed onto the pitch at half time to fly the flag for their club. They are all also shortlisted to be named 'Ultimate King of the Fans', who will be crowned on Finals Day and in addition will receive a year's supply of cider and an England Rugby League money can't buy prize.
Gordon Johncox, Kingstone Press Cider Managing Director, said: "We are thrilled to recognise 23 of the top fans in the rugby league Championships.
"We were overwhelmed with the response to the competition which has shown the passion and commitment the fans have for their clubs. It has been a perfect way to celebrate our first seasonas Championships sponsor and most importantly, reward those loyal fans who come out week after week to support their teams. We look forward to welcoming all fans from across the sport to Championships Finals Day and crowning the winners."
Kingstone Press Championships Finals Day is the culmination of 26 intense league fixtures and three weeks of nail-biting play-off action. It is set to be a spectacular finale to the season as six teams battle it out in three thrilling finals at Leigh Sports Village on Sunday 29
Kingstone Press will be creating a dedicated Fan Zone at the stadium providing pre-match entertainment where fans can test their Rugby League skills on a number of different challenges with prizes on offer for the fan who top the charts. On-pitch entertainment and crowd competitions will also run across the course of the day, helping to create excitement and atmosphere at the ground.
Barrow Raiders – Louise Scarr
Batley Bulldogs – Colin Bottomley
Dewsbury Rams – Elsie Fryer
Doncaster RLFC – Barry Brown
Featherstone Rovers – Paul Coventry
Halifax RLFC – Peter McNamara
Hunslet Hawks – Louise Kehoe
Keighley Cougars – Susan Dodds
Leigh Centurions – Darren Sheppard
Sheffield Eagles – Mark Webster
Swinton Lions – John Spellman
Whitehaven RLFC – Shaun Drinkwater
Workington Town – Anne Wilson
York City Knights – Lauren Ruddock
Gateshead Thunder – Kevin Barlow
Gloucestershire All Golds – Martin Lovegrove
Hemel Stags – Steven Tiffen
London Skolars – Debbie Knight
North Wales Crusaders – Paula Evans
Oldham RLFC – Gerry Jones
Oxford RLFC – Andrew Spencer
Rochdale Hornets – Andy Birch
South Wales Scorpions – Sandy Feane
Tickets for the 2013 Kingstone Press Championships Finals Day cost from just £15 for adults, £10 for concessions and can be purchased by visiting; www.rugbyleaguetickets.co.uk or by calling the RFL Ticket Office on 0844 856 1113.
For those who can't make it on the day, Kingstone Press will be using our social media networks to bring you all the action and atmosphere from the day. Look out for competitions on Twitter @KingstoneCider and Facebook.com/KingstonePressCider.