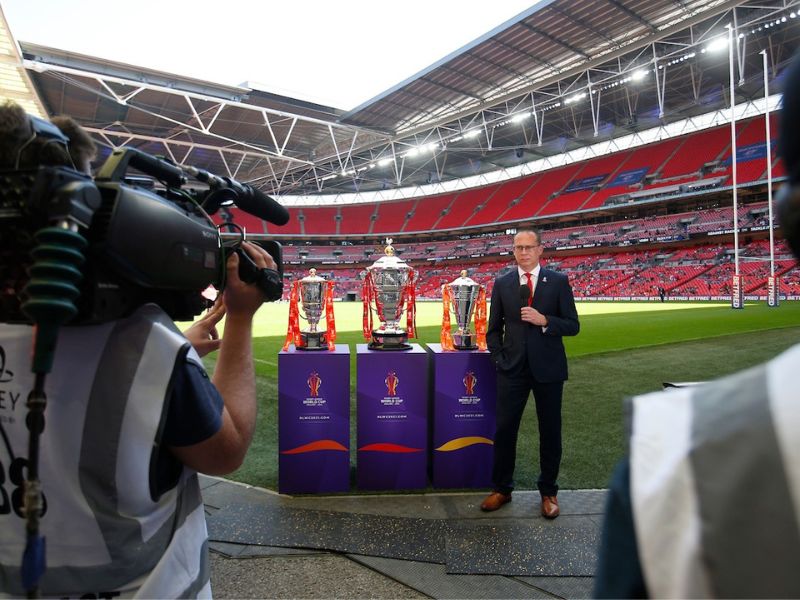 World Cup chief Jon Dutton hosted a media briefing on Thursday following the first round of the men's tournament.
Dutton has been pleased by the tournament's opening week, with the Women's, Wheelchair and PDRL World Cups yet to kick-off.
Here's everything the tournament boss had to say, including ticket prices and key statistics.
Jon Dutton on tournament welcome
The tournament welcome was not what we had hoped. I was personally absolutely devastated by the technical failure. But that did not overshadow what was an incredible home performance and day inside the venue.
We had a lot of positive feedback from all those inside the stadium. We have decided to investigate that further so we have absolute clarity. The focus is to look forward now.
Key statistics
If we start of with broadcast, the total cumulative match audience so far is 3.8million. That will grow as it does not include digital figures yet. The audience on Saturday peaked at 1.8million.
Perhaps the key statistic is the audience share on Saturday, which was 22% and that is incredibly high. We are off to a flying start and we will surpass I think quite quickly the match audience that we had in 2013.
Just under 100,000 spectators have come through the turnstiles in the first week. The stat that really stands out for me – 55% of those inside St James' Park were from the north-east. I think if we just reflect on that for a moment, that is really quite staggering. I think that is the impact of major events; attracting a new audience.
On Saturday night, after the England game, we had our highest sales since we opened the ballot two years ago. 
The top buying postcode on Saturday night was for London. We are now seeing a trend where people are plotting an England path.
We are approaching a sell out at Bolton and we have got some really key moments moving forward.
Ticket pricing
To reiterate some of the things that we've said before, when we started this journey, all 61 games had tickets available at £25 or less. When we started the tournament, 57 out of the 61 games had tickets available at £25 or less.
If we take a deep dive into Bolton on Saturday, we had at the start 8,000 category E (£25/£10) or D (£35/£15) tickets available for that England game.
Doncaster, our lowest attendance so far, was our cheapest game. Last night (Wednesday, Wales v Cook islands) was priced at adults £15 and children for £5.
"We are really conscience in comparisons to 2013. We need to take into context the current economical environment, the TV terrestrial coverage that we didn't have and also that we are taking more games to venues.
Jon Dutton overall summary
Overall summary, it's a very good first week, with room for improvements. We are eight games into a 61 game event, and also we should remember that at the weekend we start the PDRL World Cup with another seven games.
More World Cup content
Luke Keary: Representing Ireland one of my proudest moments
The Kumuls are rising insist Papua New Guinea international stars
Adam Doueihi to miss crucial World Cup clash after unsuccessful appeal
FOLLOW: Keep up with all the latest on the Love Rugby League mobile app and podcast