Leeds legend Kevin Sinfield has been presented his OBE by the Duke of Cambridge during an investiture ceremony at Windsor Castle.
Sinfield, 41, was accompanied by wife Jayne to collect the award for his services to rugby league and charitable fundraising.
His superhuman efforts in honour of close friend and team-mate Rob Burrow have raised millions for Motor Neurone Disease.
PHOTOS: 13 wholesome pictures of Kevin Sinfield completing run for Rob Burrow
Sinfield said: "I think to be able to keep MND in the spotlight and continue to give it the awareness it deserves has been really special. I'm delighted to be here to accept the honour on behalf of the whole of rugby league and MND community.
"Rob's story and his courage and his bravery has really inspired people, and whilst he's willing to fight like he is, as a former teammate and a friend it's really important, like we did on the rugby field, we stick together now.
"It's lovely to be recognised myself but there's been so many other people involved.
"The two big challenges we've done, our team have been magnificent. I think it's really important for the MND community we keep banging the drum.
"But then you see the awareness and funds that the support has created – which is wonderful – and the sport of rugby league absolutely got behind it and got behind Rob."
A rugby league legend
The two-time Harry Sunderland Trophy winner was previously awarded an MBE in the Birthday Honours List back in 2014.
Sinfield led Leeds' golden generation to seven Super League titles, three World Club Challenges and two Challenge Cups.
In 2015, he became the first rugby league player to be shortlisted for the BBC Sports Personality of the Year.
Since retiring from rugby league after winning the 2015 Super League Grand Final, he had a brief stint in rugby union as a player for Yorkshire Carnegie.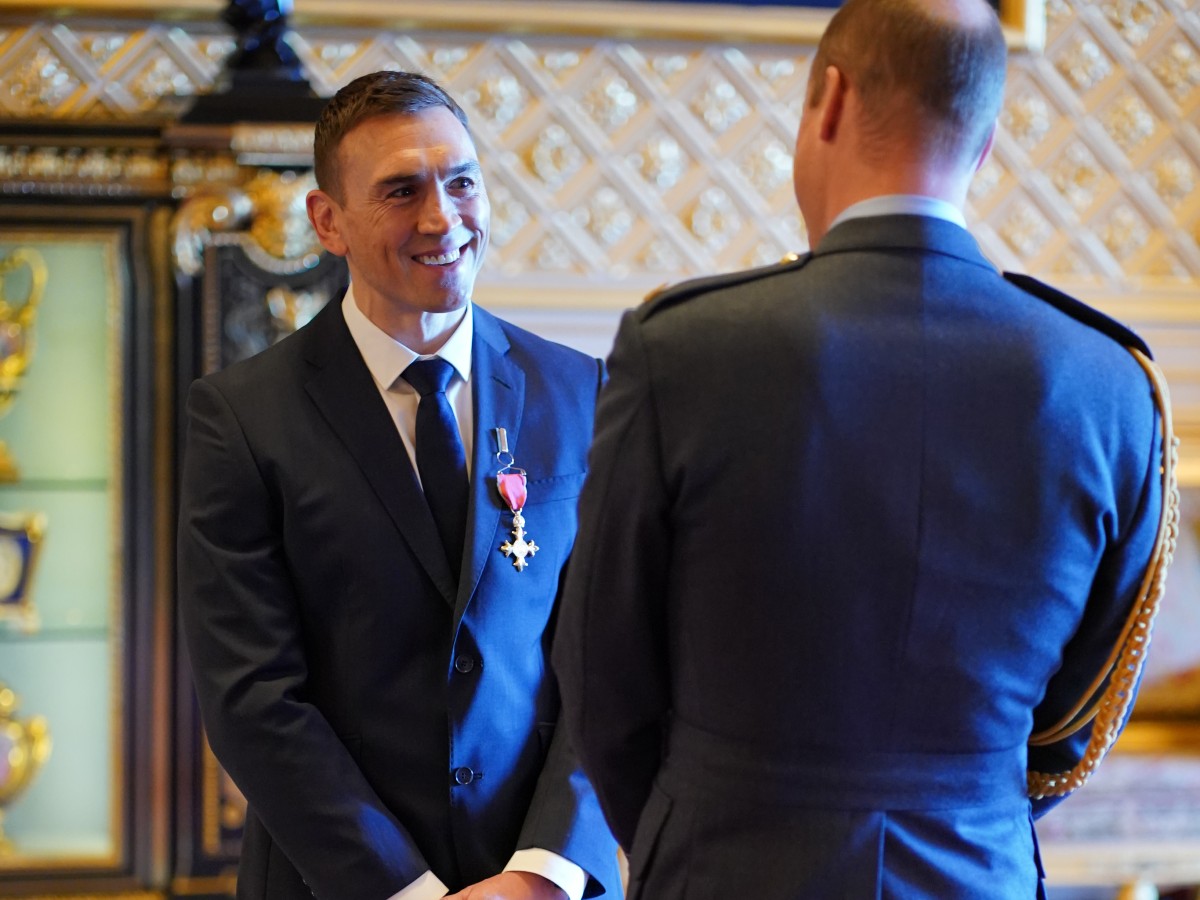 He returned to rugby league as the RFL's Rugby Director, and then moved back to Headingley as Director of Rugby.
At the end of 2021, he departed the Rhinos to join Premiership rugby union side Leicester Tigers as defence coach.
Before Christmas, it was announced that he had taken up a role on the board of trustees at Rugby League Cares.
His phenomenal feats of physical and mental endurance have captured the nation's hearts in recent months.
In November, he raised more than £2m for MND by running 101 miles from Leicester to Leeds in 24 hours.
That came less than a year after he raised more than £2.7m by running seven marathons in seven days.
---
Sensational Kevin Sinfield
Kevin Sinfield will not stop until a cure for MND is found
Petition for Kevin Sinfield knighthood gains momentum
"He's like another son to me" – Geoff Burrow touching words to Kevin Sinfield