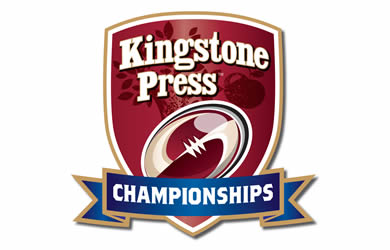 Leigh Centurions winger Liam Kay and York City Knights stand-off Pat Smith are the Kingstone Press Players of the Week.
Kay scores four tries in Leigh's record-breaking 54-12 win at Sheffield Eagles while Smith guided York to a 40-0 triumph over Hunslet Hawks.
Every week each coach in both Kingstone Press Championship competitions is contacted to help produce the awards.
Kingstone Press Championship Player of the Week – Liam Kay (Leigh Centurions)
Leigh Centurions winger Liam Kay earned huge praise
from coach Paul Rowley after scoring four tries against Sheffield Eagles.
Kay scored twice in each half as the Centurions won 54-12. Rowley said: "Liam's bought into the club and he's one of those players that will do whatever he needs to do to help his team-mates get the victory.
"He's willing to do the hard stuff just as much as he has the finesse for try-scoring at the other end, and he's the all-round player at the moment. His will to win and desire to help his team-mates is enormous."
Kingstone Press Championship One Player of the Week –Pat Smith (York City Knights)
Stand-off Pat Smith was excellent in York City Knights' 40-0 victory over Kingstone Press Championship One title rivals Hunslet Hawks.
Knights coach Gary Thornton said: "We had a very dominant pack and, combined with Jack Lee's distribution, that allowed Pat to create, keep us organised and make sure we stuck to the game-plan.
"He was very instrumental for us. He directed us well and came up with a special individual play to put Jonny Presley in for his try.
"We've copped a bit of flak in the past few weeks, but our players were excellent to a man against Hunslet. However, we know there's still a long way to go and our feet are firmly on the ground."