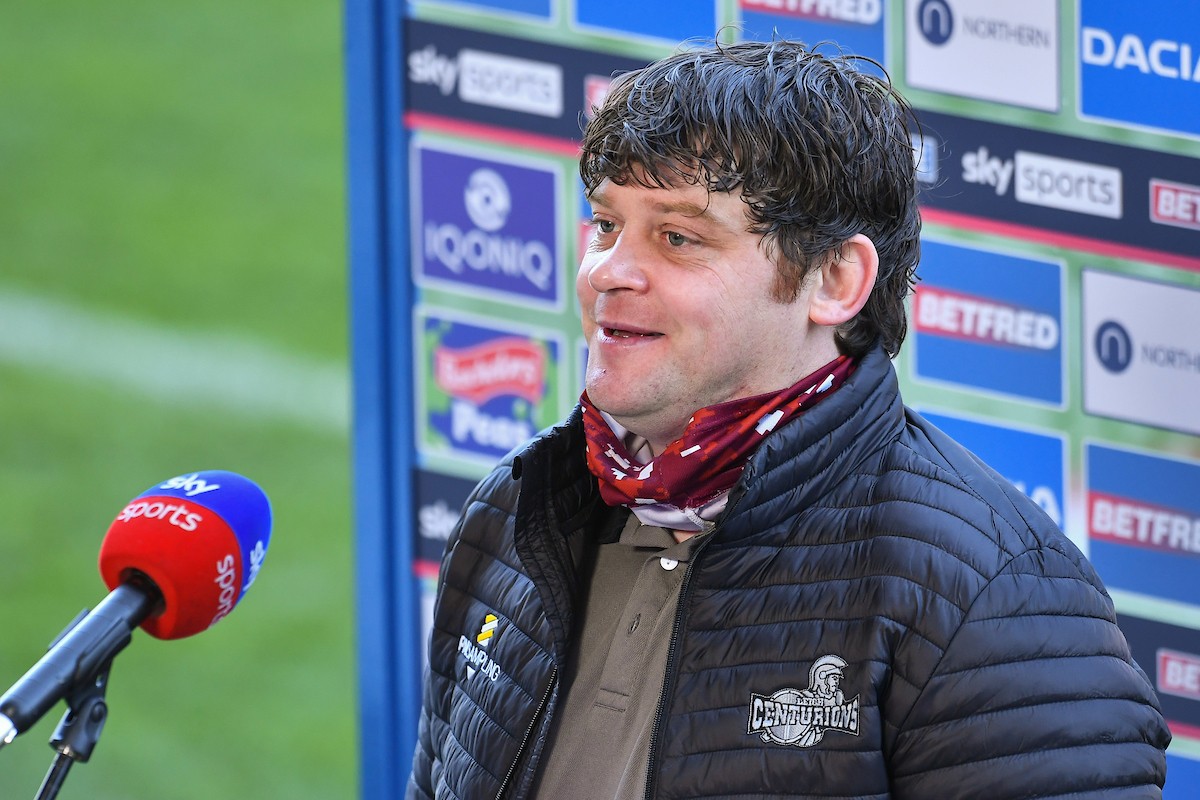 Leigh coach John Duffy and head of rugby Garreth Carvell have left the club with immediate effect by mutual consent.
Duffy took over the head coaching role at the Centurions in November 2018 but they have parted company following a winless start on their return to Super League.
Kurt Haggerty will take over the head coaching role in the short term, while applications for the post on a permanent basis are considered.
Leigh owner Derek Beaumont said: "I would like to thank John for his dedication, commitment and outstanding work ethic he has shown during his time with the club.
"It has been a really difficult time as he massively cares about the club, the fans, the town of Leigh and me and my wife personally.
"He took on the role when the club was at a low point following the circumstances of 2018. He vowed to get me back interested and he did. He massively over-achieved with a small budget, building a group that worked really hard for him, making the play-offs.
"We built on that the following year, and he had an unbeaten start to the league campaign, winning five from five and narrowly lost in the last game of that season, away to Hull KR in the last second in the Challenge Cup. He then endured the remainder of the season unable to operate as a coach.
"With many of those players leaving and replaced with a team to go strong in the Championship and gain promotion, he saw the opportune moment of promotion bestowed upon the club from its boardroom's application, something he acknowledged the significant effort that had been made to make that happen.
"John jumped at it with two hands, despite knowing there was no time to recruit differently and that all other teams had already finished their recruitment. I have seen in detail the meticulous effort that he has made, and it saddens me to have to make these comments.
"In the end John wants the same as me, the best for the club, not himself and therefore it wasn't a difficult conversation that we had. Something needed to change, and we both recognised that.
"I hope the fans can respect the difficult task John faced and made a fist of for them and, also, remember his fine contribution as a player. He is Leigh through and through and can certainly hold his head high in my box anytime he feels like it. As a sport we talk of mental health but perhaps we need to look at some of the things we do as a sport and the impact that has on people's mental health."
Carvell joined Leigh ahead of their return to Super League this season in a wide-ranging role, supporting head coach John Duffy as well as being responsible for player welfare, recruitment, discipline, RFL issues and was also part of the club's application for an academy licence.
Beaumont said: "I would like to thank Garreth for his contribution to the club. It has been a really difficult time for us all as we battle to find our feet in Super League and come to terms with the decision regarding the academy.
"Garreth worked hard on that and had a good vision for building the future of our club, something we have been denied for the foreseeable future. The personal pressure on his family life with the travelling and additional pressures that creates saw us reach an amiable agreement for him to part company with the club. I hope he remains within the game of rugby league as he certainly has value to add to it and I wish him well in his future."
---
Subscribe to The Final Hooter on Apple Podcasts and get involved with the free-to-play Fantasy Rugby League 2021.
Rugby League Nostalgia is here! Get involved with Love Rugby League's new group on Facebook to share all your rugby league nostalgia and celebrate the rich heritage of our sport.