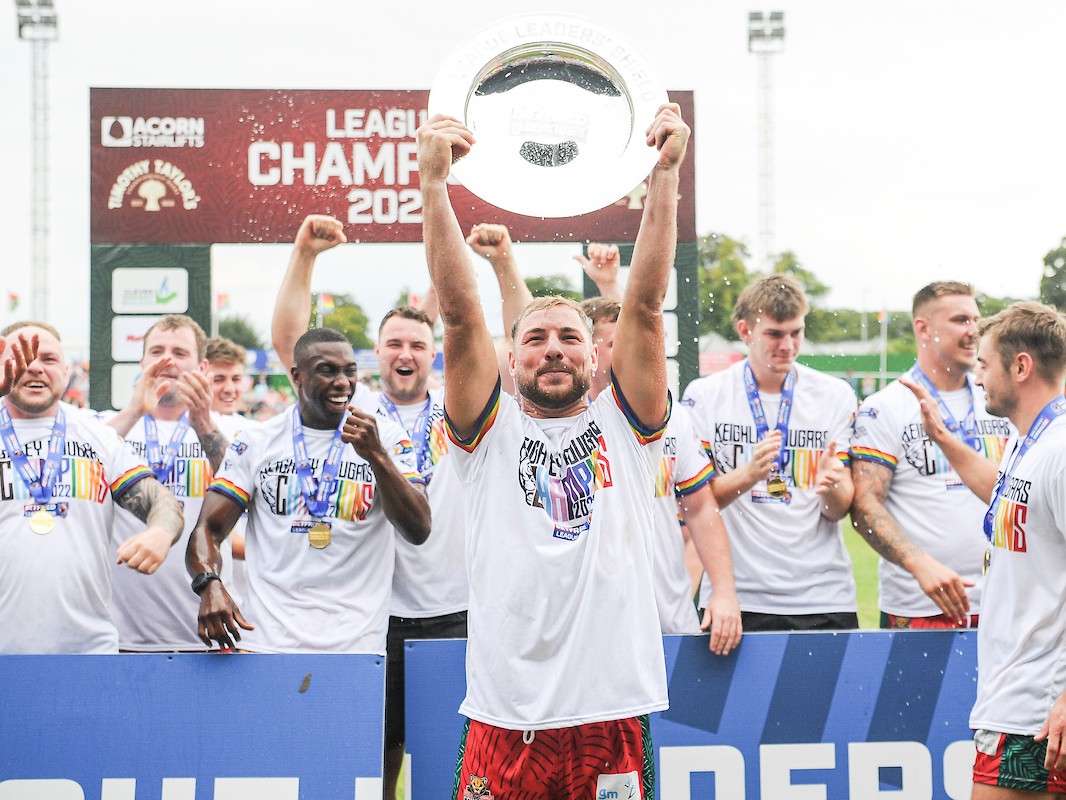 It's only been achieved three times in 911 attempts since the switch to summer in 1996.
Keighley's perfect season in 2022 will give them belief that they can kick-on and compete for the Championship play-offs; especially in light of Barrow's superb campaign last term as League 1 champions.
Under head coach Rhys Lovegrove and the now departed head of rugby Andrew Henderson, Keighley chalked up 20 wins from 20 on their way to the league title.
That all came after they lost their first game of the year too – going down 22-6 to Hunslet in the Challenge Cup back in January.
Hunslet came the closest to defeating them in the league, losing 20-16 in April, while that margin of four was also matched by Swinton in August.
Other than that, Keighley's season was marked by commanding victories which included 96 against London Skolars, 86 against West Wales and 56 and 50 against third placed North Wales.
Their recruitment during last season and since has been strong, and in the off-season they've added the likes of Ben Crooks, Brad Walker, Ellis Robson, Mark Ioane and Thomas Doyle from local rivals Bradford to assist with their push towards the top of the second tier.
MORE: How Keighley Cougars are shaping up for 2023
First summer feat
The only other English club to enjoy an "invincible" season in the summer era is Dewsbury, who won the third tier with 18 wins from 18 in 2009. In that same year, Keighley finished runners-up and earned promotion by winning the Grand Final against Oldham.
That Dewsbury team was led around the park by Liam Finn and Patch Walker, while Andy Bostock finished as top try scorer with 22 in 23 appearances in all competitions. Other regulars included Bryn Powell, Rob Spicer and Keegan Hirst.
Finn won Championship One Player of the Year, Warren Jowitt won the coach award and Dewsbury were Club of the Year.
Dewsbury's achievement was the first time a team had done so in the summer era, and the first since Hull FC's Second Division championship winning team of 1978/79.
Coached by Arthur Bunting, Hull won all 26 of their league games and it's the only time in the sport's history that it has been achieved in the top two divisions – by an English club at least.
Invincible in COVID times
The third instance of a perfect season in the summer comes, perhaps unfairly, with an asterisk.
Toulouse achieved a 100% league record in 2021, going on to win promotion to Super League via the play-offs.
But due to the COVID pandemic, Toulouse only actually played 13 league games – with a 14th also being awarded to them after London Broncos forfeited.
The league table that season was decided by points percentage, with Toulouse's victory over Featherstone ultimately the reason it was they, and not Rovers, who finished top of the table.
Featherstone won 20 of their 21 games that campaign. However, Toulouse's achievements shouldn't be downplayed – all 13 of their wins came away from home; before they won two play-off games, both at home, to secure promotion.
Only two teams completed a full season that campaign – Whitehaven and Swinton played all 22 games in a season that had been shortened from the usual 27 due to the late start. Batley, Dewsbury, Featherstone, Halifax, Oldham and Widnes all played 21.
Making waves across the Channel
That's not the only unbeaten season Toulouse have enjoyed during their years in the RFL pyramid.
In 2016, they finished top of the League 1 table with 20 wins from 21 – only a 28-all draw against Rochdale stopping them from having a perfect record.
Rochdale would stun them in France in the promotion final, but Toulouse would bounce back to earn promotion in the play-offs by beating York and Barrow.
Their season also included a notable Challenge Cup victory over Championship side Leigh, before they went down 40-22 to Wakefield in the round of 16 in what turned out to be their penultimate game in the competition to date.
That 2016 team contained the two mainstays of their side who dramatically left on the eve of the Super League season in 2022 – Mark Kheirallah and Johnathon Ford.
Kheirallah contributed 31 tries and 171 goals in that campaign, while Papua New Guinea winger Kuni Minga was top try scorer with 36.
The following year, their first in League 1, Toronto won 15 out of 15 in the first phase of the regular season. The division then split in to two groups of eight to complete the season, and the Wolfpack would go on to lose to York in that phase. They were promoted as champions with 20 wins, a draw and a loss.
Huddersfield bouncing back in style
The only other English club to go unbeaten in the summer era are Huddersfield Giants, who secured an immediate return to Super League with a dominant season in the 2002 Northern Ford Premiership.
After finishing bottom of Super League for the fourth successive season, Huddersfield finally dropped out at the end of 2001 to be replaced by Widnes.
But they wasted no time in bouncing back, scoring a club record 1,156 points as they won 26 and drew one of their regular season games, before defeating Leigh twice in the play-offs.
They played a total of 39 games in the season, including two Challenge Cup ties and a run to the Buddies Cup (later Northern Rail Cup) final, which they won by defeating Hull KR.
A young Eorl Crabtree scored 25 tries, bettered only by a young Stanley Gene (28) and Hefin O'Hare (36).
Perfect seasons in the summer era
2009 – Dewsbury Rams – Championship One – P18 W18
2021 – Toulouse – Championship – P14 W14
2022 – Keighley Cougars – League One – P20 W20
Unbeaten seasons in the summer era
2002 – Huddersfield Giants – Northern Ford Premiership – W26 D1
2016 – Toulouse – League One – W20 D1
An invincible season is no mean feat in any competition – who knows when we'll see the next one.