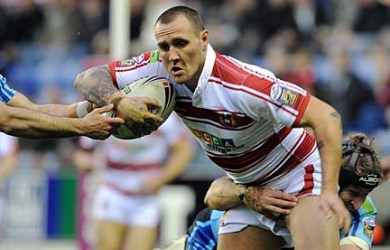 Wigan have confirmed that second rower Gareth Hock has tested positive for a prohibited substance.
The presence of Benzoylecgonine (a metabolite of cocaine) was discovered in the A Sample Test taken at the Wigan game against Salford City Reds on 5th June 2009.
The club was informed by UK Sport and the Rugby Football League on Monday about the situation.
A statement read: "Pursuant to Article 7.2.3. of the Anti-Doping rules of the RFL, Gareth has been charged with an Anti-Doping Rule Violation and his Registration has been Provisionally Suspended by the RFL awaiting the B:Sample Test on June 30th. Whilst subject to a Provisional Suspension, a player may not participate in any capacity in any competition, event or other activity organised, convened, authorised or recognised by the RFL or by any other body that is a member of, or affiliated to, or licensed by the RFL.
"The Club was informed of the situation on Monday 22nd June and joins with the RFL and UK Sport in deploring and condemning the use of drugs in sport including so-called recreational drugs."
Hock joined the club at the age of 12, and has made more than 130 appearances since making his debut in 2003. He has also won four caps for Great Britain and three for England.
Under RFL rules, if Hock is found to have violated the Anti-Doping regulations, he will face a two-year ban.
Castleford hooker Ryan Hudson, then at Bradford, was banned for two years in 2004 after testing positive for the banned substance stanozolol.
Former Wigan academy player Dave Allen was banned by the RFL for 12 months in 2006 after testing positive for Benzoylecgonine a metabolite of cocaine, but this was later increased to the mandatory two-years. Allen returned to the game at the beginning of this season with Oldham.