Hard work and self belief: The remarkable rise of Andy Ackers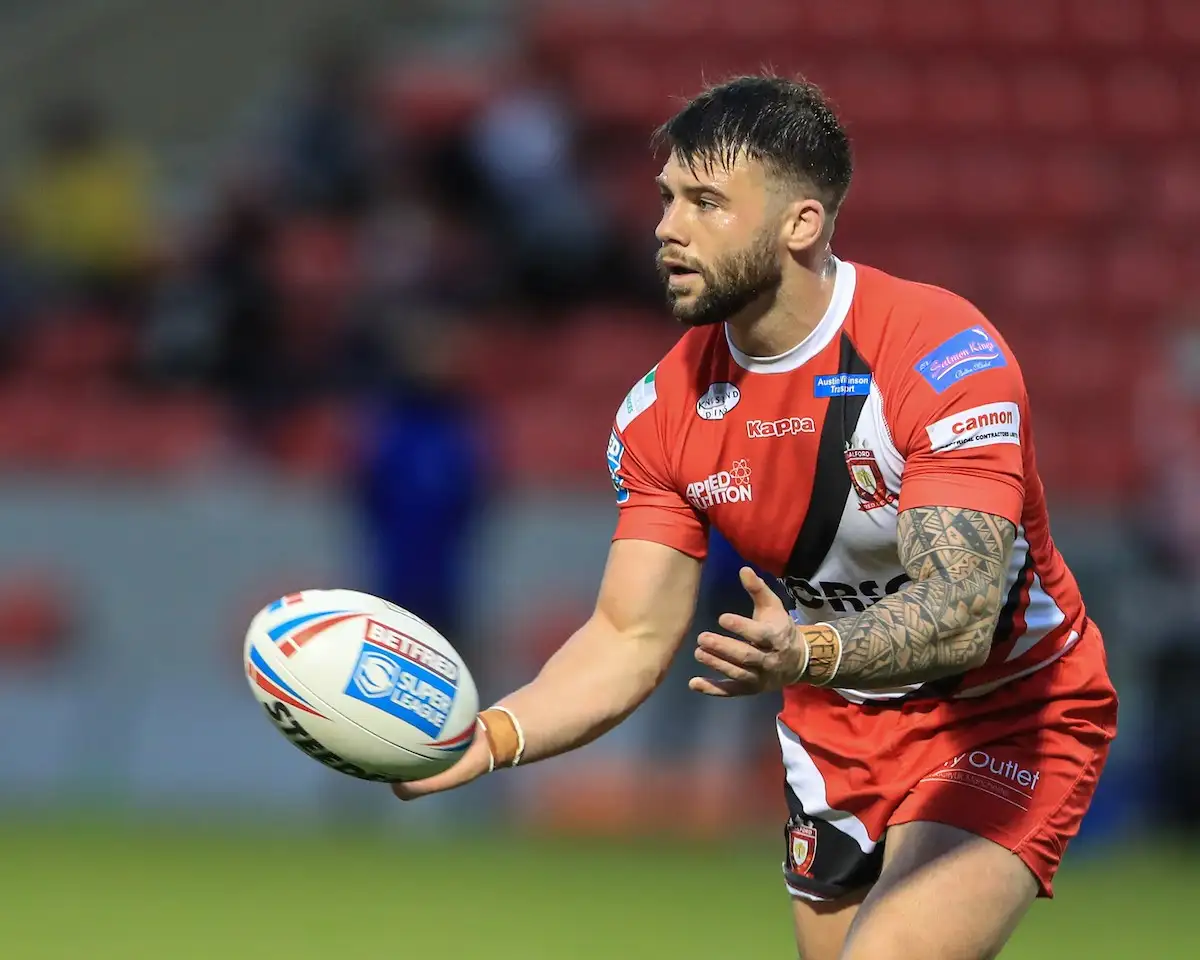 Salford star Andy Ackers is living his dream of playing in Super League right now – and his journey to the top is impressive to say the least.
Growing up in the small town of Golborne in Wigan, Ackers first started playing rugby league for local community club Golborne Parkside at the age of 12 and he took to rugby like a duck to water.
"I always loved football when I was young but when I was 12 then I went to play at Golborne Parkside," Ackers said. "I played with the likes of Ben Currie, Greg Wilde and Chris Hankinson at Golborne.
"I packed it in a couple of years later and a bit later on, everyone started signing scholarships at the likes of Wigan, Warrington and Salford and I was probably one of the players who could have got one but I didn't because I couldn't see the wood for the trees at the time.
"I left school and I didn't know what I was going to do. I didn't have a job and I was just hanging around. I ended up speaking to my dad and he got me a couple of labouring jobs with his mates. I remember when I turned 17, I had no job and I signed on the dole and I thought I need a career, I need to do something.
"I spoke to my dad and he said to me 'why don't you go back to rugby?' and I remember saying to him that I'll never make it at 17. He told me to go back down and see if I enjoy it, so after a couple of months he convinced me to go back and give it a go. I think I played in a nine-a-side game when I first went back and I ripped it up, I think I got man of the tournament.
"I then left Golborne Parkside and went down to Hindley, another Wigan-based amateur club. I think I'd only played a game or two at Hindley and I'd just turned 18 and then I joined Wigan's academy and that's when I knuckled down and thought 'right, I'm going to give this a good crack now'.
"I started jogging to and from training and it was about seven miles in total from Golborne to Hindley. I thought 'I need to get fitter if I'm going to give it a good go at Wigan'. My dad used to take me on a Tuesday and Thursday but on a Saturday morning I used to run about seven miles to and from training. I dedicated my life to rugby then."
Wigan and Warrington academy days
Ackers was 18 when he first joined Wigan's academy and from that moment he didn't look back. He knew he wanted to make it as a professional rugby league player.
"When I first turned up to training with Wigan's academy I just remember it being proper professional," he added.
"The likes of George Williams and Ryan Hampshire were there and I remember getting my kit and being buzzing.
"I always had the right attitude for it. I've got a hard working attitude and I've always had the belief in myself that I could make something of myself.
"If I didn't go to Wigan as a youngster then I probably would have never made it pro. I tried my hardest whenever I got a chance.
"I then got released by Wigan and I was gutted. I was heartbroken but within two days Warrington rang me to offer me a three-month trial.
"I went down training and within two weeks they offered my a contract and made me captain of the Under-19s. I had a great year with Warrington, I got Under-19s Player of the Year."
READ: Set of Six with Salford hooker Andy Ackers: His favourite and worst memories in rugby league
Life as a Lion
Ackers then joined Championship side Swinton on loan from Warrington for a season before making the move permanent the following year. The hooker impressed during his time at the Lions, scoring 23 tries in 50 games.
"I played at Swinton under Ian Watson who I'm with now at Salford," Ackers recalled. "It was a good experience then because it was a big jump from Under-19s rugby.
"John Duffy became coach at Swinton and I also played under him there. I enjoyed my time at Swinton and I've got some good memories of being there."
Capital gains
After two impressive seasons at Swinton, Ackers then earned the first full-time contract of his career with London Broncos.
Ackers scored 19 tries in 48 appearances for the Broncos, and quickly became one of the standout players in the Championship.
"It didn't really sink in at first that I was going living in London," Ackers said.
"At that point in my life I got a nosebleed if I left Wigan, so I remember it hitting me that I was actually going living down there about three days before pre-season started.
"I loved my time at London, it was a proper good time. It was a great life experience living in London and I had some great times there."
Howling with the Wolfpack
After two years with London between 2016-17, Ackers then joined Canadian club Toronto Wolfpack.
The Golborner excelled at Toronto and helped them achieve promotion to Super League.
"Toronto was class," Ackers continued. "The lifestyle that we had over there was brilliant and everything about it was class.
"I had a really good relationship with Brian McDermott (Toronto coach), I got on with him on and off the field. He did a lot for me and he really brought my game on as well. I've got a lot of respect for him and for what he has achieved in the game."
Becoming a Red Devil
Ackers made the switch from Toronto to Salford back in June, with the hooker signing a three-year deal with the Red Devils.
"I played under Watto (Ian Watson) earlier in my career at Swinton and I also played under Rowls (Paul Rowley, now on Salford's coaching staff) at Toronto, so I knew them and they were part of my development.
"I just have to earn my respect from the players and coaches now at Salford. I'm buzzing at the minute, I'm at the highest level and I'm competing on the biggest stage so this is where my hard work has got me and I'm going to keep working hard."
What next for Ackers?
Well, that's clear, he wants to win silverware with Salford and one day pull on an England jersey.
"I want to win a few trophies if I can with Salford," Ackers said. "I want to win trophies and the goal for every Super League player is playing for their country and that's what I want to try and push for.
"I've signed a three-year deal with Salford and I don't see why I can't (play for England), I've just got to keep my head down and keep cracking on and working hard."
Listen to The Final Hooter podcast, featuring exclusive interviews, every week. SUBSCRIBE to Love Rugby League on Apple Podcasts.