Grzegorz Kacała – the trophy-winning, record-breaking poster boy of Polish sport in the 1990s, but someone you've likely never heard of.  
Having made a name for himself in rugby union, Kacała was described by many as the greatest player his country had ever produced.
The no-nonsense forward was also involved with Super League from the very beginning, creating a legacy as the first-ever person from Poland to play the sport professionally. 
Admittedly, Kacała's spell in Super League was brief – seven games to be exact. 
But that matters little. He'll always have his name firmly fixed in rugby league history.
A 'one man demolition crew'
Born in Gdansk in March 1966, at a time when rugby league wasn't all that well known, it's perhaps unsurprising that Kacała's sporting journey began in the 15-man code.
At 6ft 3in, he was a natural athlete with the right blend of size, strength and speed.
Starting out at Lechia Gdansk – one of the oldest and most successful teams in Poland's premier rugby union competition, the Rugby Ekstraliga – Kacała quickly rose through the ranks before moving onto Ogniwo Sopot. 
Shortly after came his move west, to a competition where he would be pitted against the very best in the business.
The Mammoths of Grenoble
Following a brief spell with Club Olympique Creusot Bourgogne, Kacała transferred to Grenoble where he became part of a renowned forward pack playing in France's premier competition, the 'Top 16' as it was then known.
It wasn't without its controversy, though. Kacała should've gotten his hands on a first piece of career silverware in 1993, only for it to be snatched away in the cruellest of fashion. 
Moments from winning the French championship title, a late try was wrongly awarded to Castres' New Zealand international Gary Whetton – something that referee Daniel Salles admitted over a decade later – leaving Kacała and his team-mates empty-handed.
That disappointment coincided with the end of his Grenoble career. The Polish back-rower had a fresh challenge on the horizon, and it came in a newly-formed competition called Super League. 
A small piece of history
Founded in December 1995, Paris Saint-Germain Rugby League was an exciting venture for the sport of rugby league. 
They were the only non-English side in Super League, and to an extent, were a little ahead of their time. 
PSG's original 26-man squad consisted of nine 'overseas' players, including Poland-born Kacała and others from Australia, New Zealand, Samoa, and even Moldova. Another union import, Racing 92's Darren Adams, was the household name that club officials hoped would inspire the hearts and minds of a nation. 
Few can forget their memorable 30-24 victory over Sheffield Eagles at the Stade Sebastien Charlety, watched by an almost 18,000-strong crowd. 
That was Kacała's first taste of competitive rugby league – he started that match and appeared six more times for the French side, scoring once. 
But Paris Saint-Germain's season yielded just three wins and a draw from their 22 games. It also included an arduous 11-match unbeaten run, set in motion by a 76-8 defeat to the Wigan Warriors. 
Still, somehow, the French side survived, finishing two points ahead of relegated Workington Town. 
However financial difficulties struck following the resignation of club president Jacques Fouroux – the man credited as the brainchild of the PSG project. They were left 5m francs short of budget and were seeing crowd numbers, on the whole, dwindle dramatically.  
The demise of Paris Saint-Germain, and a return to union
When Paris Saint-Germain's second and ultimately last season came around, there were just two survivors from year one in a totally new-look squad – Kacała wasn't one of them.  
Instead he reverted back to union, and it was with Brive that he tasted Heineken Cup success in 1997, beating Leicester Tigers 28-9. 
Kacała became the first Polish player to lift the trophy – to this day, it has remained that way. And not only that, he was named Man of the Match in the final. 
He finished his club career at Welsh side Cardiff Blues, crossing paths with none other than former Warrington, Leeds, Bradford and Featherstone playmaker Iestyn Harris. 
Looking to the future
Despite Kacała's status bringing fresh eyes to the game, rugby league remains a minority sport in his homeland.
Yet there are signs to suggest that might be about to change. 
On the international front, Poland are starting to make some headway. They were recipients of the 2018 Emerging Nations World Championship Trophy – a competition designed for tier two and tier three countries, including the likes of Malta, Niue and Greece – the latter set to debut in the Rugby League World Cup later this year.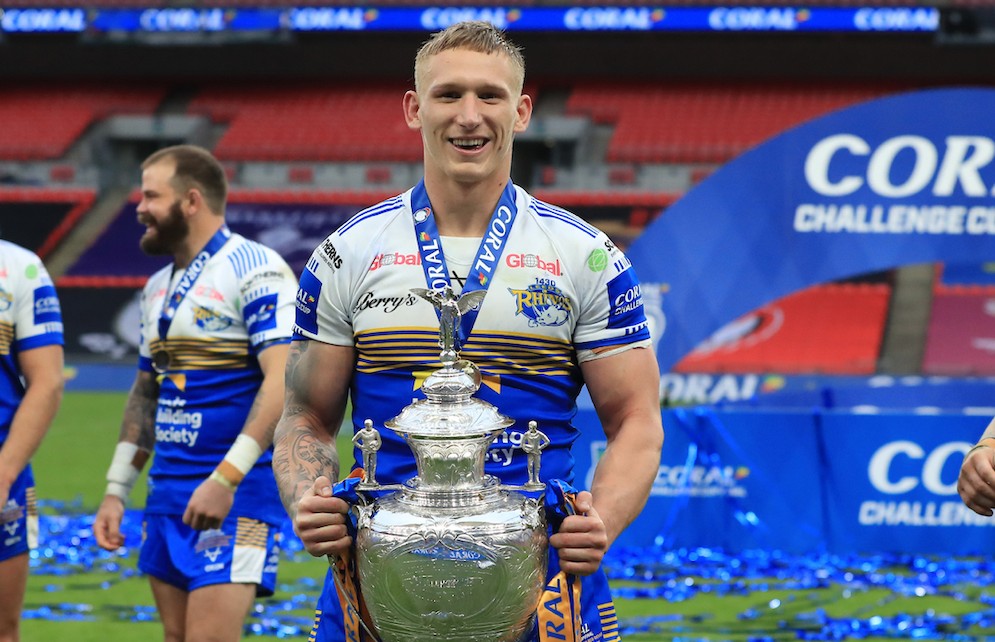 Super League also has a new Gdansk-born front-rower in Mikolaj Oledzki, an England Knights international and recipient of Leeds Rhinos' number eight shirt ahead of the 2021 season. 
Despite discovering rugby league by accident, the signs firmly point towards Oledzki becoming the next household name to come out of his country. 
Without doubt, his work rate is second to none, and at 22 years of age, his physicality is only going to improve.
But he'll never be Poland's first rugby league star – that honour is reserved for Grzegorz Kacała.
Rugby League Nostalgia is here! Get involved with Love Rugby League's new group on Facebook to share all your rugby league nostalgia and celebrate the rich heritage of our sport.