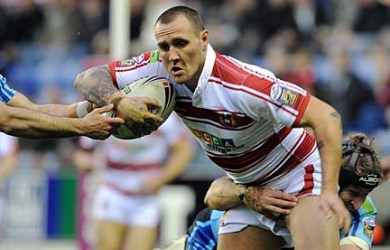 Four players have been banned for a total of seven matches for fighting in the St Helens v Wigan Warriors Stobart Super League Magic Weekend fixture at Etihad Stadium on Sunday.
Shaun Magennis of St Helens was suspended for three matches and fined £300 when he appeared before the RFL Disciplinary Committee this evening after pleading guilty to the Grade D offence of punching in the 52nd-minute incident.
Wigan Warriors player Gareth Hock admitted a Grade B punching offence and was suspended for two matches whilst his team-mate Chris Tuson was banned for one match after pleading guilty to a Grade C punching offence. Both players were also fined £300.
A third Wigan player, Lee Mossop, was banned for one match earlier in the day after submitting an Early Guilty Plea to a Grade B charge of punching
The following players were also banned for one match after submitting Early Guilty Pleas today:
Kevin Brown (Huddersfield Giants) – Grade B reckless high tackle on Adam Sidlow of Salford City Reds in the 80th minute.
Jon Clarke (Widnes Vikings) – Grade B dangerous throw on Matty Blythe of Warrington Wolves in the 31st minute.