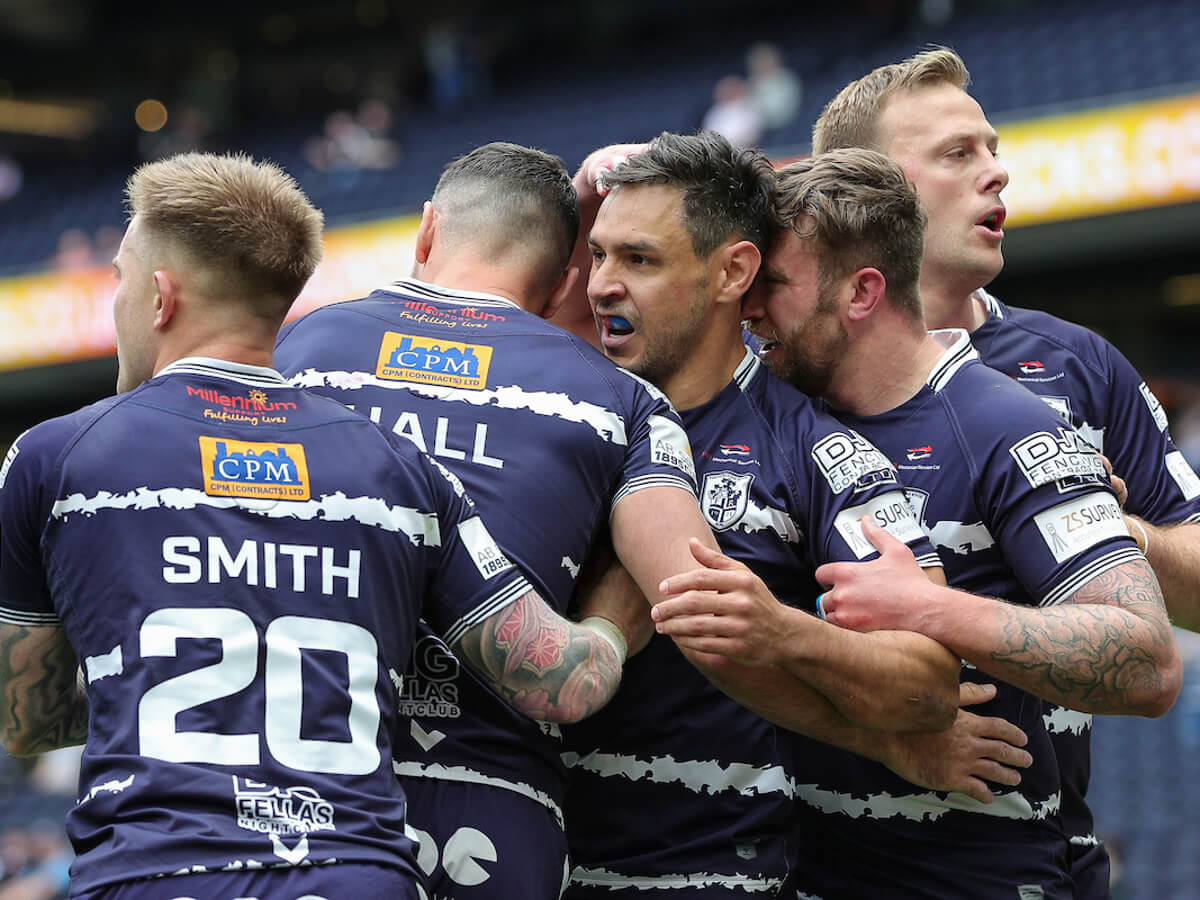 Featherstone Rovers returned to the top of the Championship table with a big win over Bradford Bulls at the Millennium Stadium.
Jack Bussey, Joey Leilua and Ryley Jacks got two tries apiece, with Ben Hellewell, Connor Jones, John Davies and Morgan Smith also getting on the scoresheet. It was also Featherstone's biggest victory against Bradford.
Featherstone made four changes to the side that beat Newcastle on Thursday. Brandon Pickersgill, Craig Hall, Johnathan Ford and Jesse Sene-Lefao  all came out of the squad. Meanwhile, there was returns for Mark Kheirallah, Craig Kopczak, Connor Jones and Adam Cuthbertson.
Meanwhile, Bradford made two changes to the side that beat Widnes last time out. Elliot Kear and Brad England were the ones to drop out, with Elliot Hall returning and Michael Hoyle also came in to make his debut from the bench.
Match Report
The Bulls took the lead after 13 minutes. Jack Bussey was able to beat Samy Kibula in the air to a kick, and he managed to get the ball down. Mark Kheirallah added the conversion to open a six-point lead.
That soon became two tries in three minutes. John Davies put a grubber kick forward, and Joey Leilua got there first to score. Kheirallah scored the conversion to double Featherstone's advantage.
Featherstone soon added a third try before the 20-minute mark. Ryley Jacks took in a pass close to the line, and was able to get through a gap to score. Kheirallah was again on-target with the conversion.
The Flatcappers were on a hot streak, and soon made it four tries in just 11 minutes. Bussey took in a short ball from Jacks, and went through the gap to score. Kheirallah added the conversion.
The hosts added a fifth try just before the half-hour. Some quick hands saw Featherstone work the ball out to Ben Hellewell, who spun out of the tackle of Ryan Millar to score. Kheirallah maintained his perfect record with the boot.
Bradford needed to respond, and they did just a few minutes later. A few penalties got them up the field, and George Flanagan went out of dummy half from short range and got the better of Kheirallah to score. Dec Patton added the conversion.
HT- Featherstone 30-6 Bradford
The start of the second half was initially delayed due to a medical emergency in the crowd.
Bradford had started the second half well, but it was Featherstone who scored first. After Patton conceded a penalty for dragging Leilua into touch, Rovers were able to work the ball out wide, and Connor Jones was able to get over. Kheirallah maintained his perfect record with the boot.
Bradford almost got back into it soon after. Kieran Gill was able to strip the ball from Morgan Smith, but could not keep hold the ball as he went to ground the ball.
Just a few minutes later, Featherstone added their seventh try. Jacks managed to throw a dummy and go through the gap to score. Kheirallah then registered his first miss of the night.
The Bulls gave themselves a much-needed lift on the hour mark. Thomas Doyle went out of dummy half from short range and managed to get over the line. Patton added the conversion for Bradford.
But just a couple of minutes later, Featherstone were in again. John Davies took in a short ball, and had the power to get over. Kheirallah was back on target with the conversion.
With seven minutes to go, Featherstone brought up the half-century. Davies put a kick towards the corner, which wasn't dealt with by Elliot Hall, and Leilua pounced for his second of the game. Kheirallah added the extra two points from out wide.
There was even time for a 10th Featherstone try before the end. This time it was Morgan Smith who got in on the act, getting through a gap in the middle, and scoring under the posts. Kheirallah rounded off the night with his ninth goal.
FT- Featherstone 58-12 Bradford
It means that Brian McDermott's side go into next week's big match against Leigh on a winning note. They will go into the match hoping to avenge their defeat in the 1895 Cup Final.
Meanwhile, Bradford will hope to get back to winning ways on Sunday at Sheffield.
Team News
Featherstone: Kheirallah, Briscoe, Leilua, Hellewell, Gale, Smith, Jacks, Kopczak, Wildie, Cooper, Bussey, Davies, Moors. Subs: Jones, Eseh, Hepi, Cuthbertson.
Tries: Bussey (2), Leilua (2), Jacks (2), Hellewell, Jones, Davies, Smith
Goals: Kheirallah 9/10
Bradford: Hall, Millar, Dawson-Jones, Gill, Burton, Patton, Lilley, Baldwinson, Doyle, Mustapha, Kibula, Wallace, Evans. Subs: Flanagan, Hoyle, Scurr, Crossley.
Tries: Flanagan, Doyle
Goals:  Patton 2/2
LOVE RUGBY LEAGUE: Latest News, Podcast, App & Fantasy RL