The hairs on the back of my neck stood up as 'fill up my senses' played at St Helens last night as fans returned to rugby league in the UK for the first time in 429 days.
We will never take something as simple as attending a rugby league match for granted again.
Though fortunate to attend games as a member of the media since last year, the drive to the ground was significantly different – seeing people in replica shirts making the way to their church; be it families, couples, lads and dads, mums and daughters, friends or multiple generations of families.
The mood was buoyant. Even with the social restrictions and the mask-wearing, it was a step forward. As people young and old made it in to the ground, they waved excitedly at people they've probably not seen for more than a year.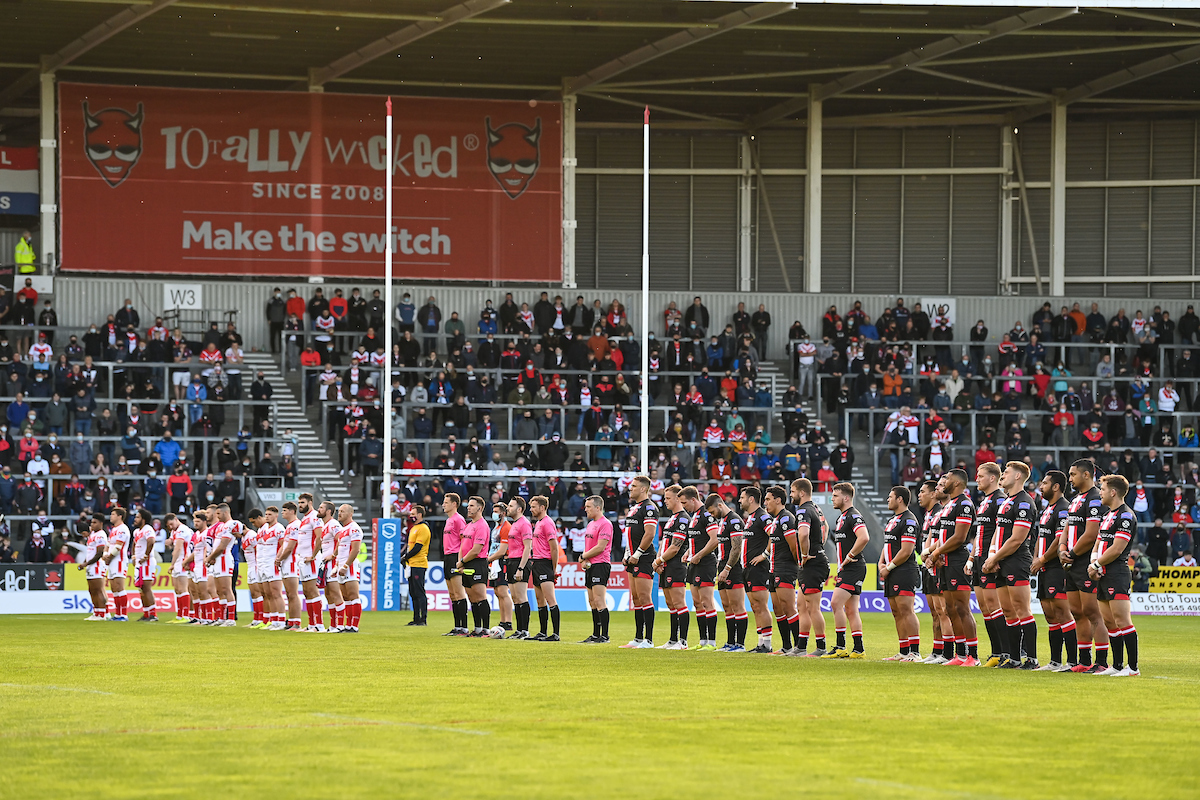 People you probably don't or wouldn't know without rugby; people who you may be still don't know really, but for a couple of hours each week, you share your mutual interest together.
Even the stewards were arm bumping!
Inside the ground, which slowly filled up to its limited capacity, the atmosphere was electric. 4,000 fans made it sound like three times as many, helped by the spacing which saw all four sides of the Totally Wicked Stadium filled with home supporters.
The champions embraced their fans too, with injured winger Tommy Makinson parading the Super League trophy, that they won back in November, before the game.
It was a first experience too for the likes of Joel Thompson and Sione Matau'tia playing in front of crowds in the UK.
And the whole evening was handled extremely well by all at Saints – including a poignant minute's silence prior to the game in memory of all of those lost during the pandemic.
We must never underestimate or lose sight of the importance of rugby league to its communities. Last night was a first step back on its road to recovery.
Unfortunately, like many things, rugby league has lost its way over the past 18 months.
Prior to each match, there is a dedicated 13-seconds for players, officials and fans to show their support for tackling racism and discrimination.
But clearly there's still a way to go, highlighted by this tweet from Hull centre Cameron Scott.
Good to see social media boycott made a difference, fair play ✌🏼 https://t.co/msKG8KXAMh

— Cam Scott (@camsxott) May 17, 2021
There was also a fairly classless tweet from Featherstone, that was on that very fuzzy borderline between 'banter' (ugh) and offensive, as they asked whether they would score enough points on the night to overtake Toulouse at the top of the league.
It clearly irked Oldham's Jack Spencer, who tweeted after the game (apologies for profanity):
Embarrassing result for us 2night, but I think the stupid cunt in charge of this account is forgetting our boys have been grafting all day. Then have to travel to Fev on a Monday night, some lads home at 1am then back up at 5 whilst their boys go for a swim and a coffee 🤧🤮 https://t.co/Q10r6kMCon

— Jack Spencer (@JackSpan90) May 17, 2021
Given Oldham had agreed to re-schedule the game to allow fans to attend, you'd have thought they would have been owed a little more respect.
It's the sort of the thing that an official club account really shouldn't be tweeting.
And then there was Gelling-gate. Leigh centre Anthony Gelling has since been found not guilty of GBH, but it was hardly a good look for the self-proclaimed 'family sport' to have a player on trial still able to play.
He got man of the match against Wigan too.
Tonight's Man Of The Match sponsored by PM Sampling, is Number 32, Anthony Gelling pic.twitter.com/cBiBRAFred

— Leigh Centurions (@LeighCenturions) May 17, 2021
It comes little over a week since Salford's Krisnan Inu was put under investigation for a tweet in support of convicted rapist Jarryd Hayne; we still await the outcome of that one.
As some sort of normality resumes, hopefully rugby league will grow some strength to be assertive and true to itself once again.