Dom Young on Huddersfield exit, life in the NRL & England call-up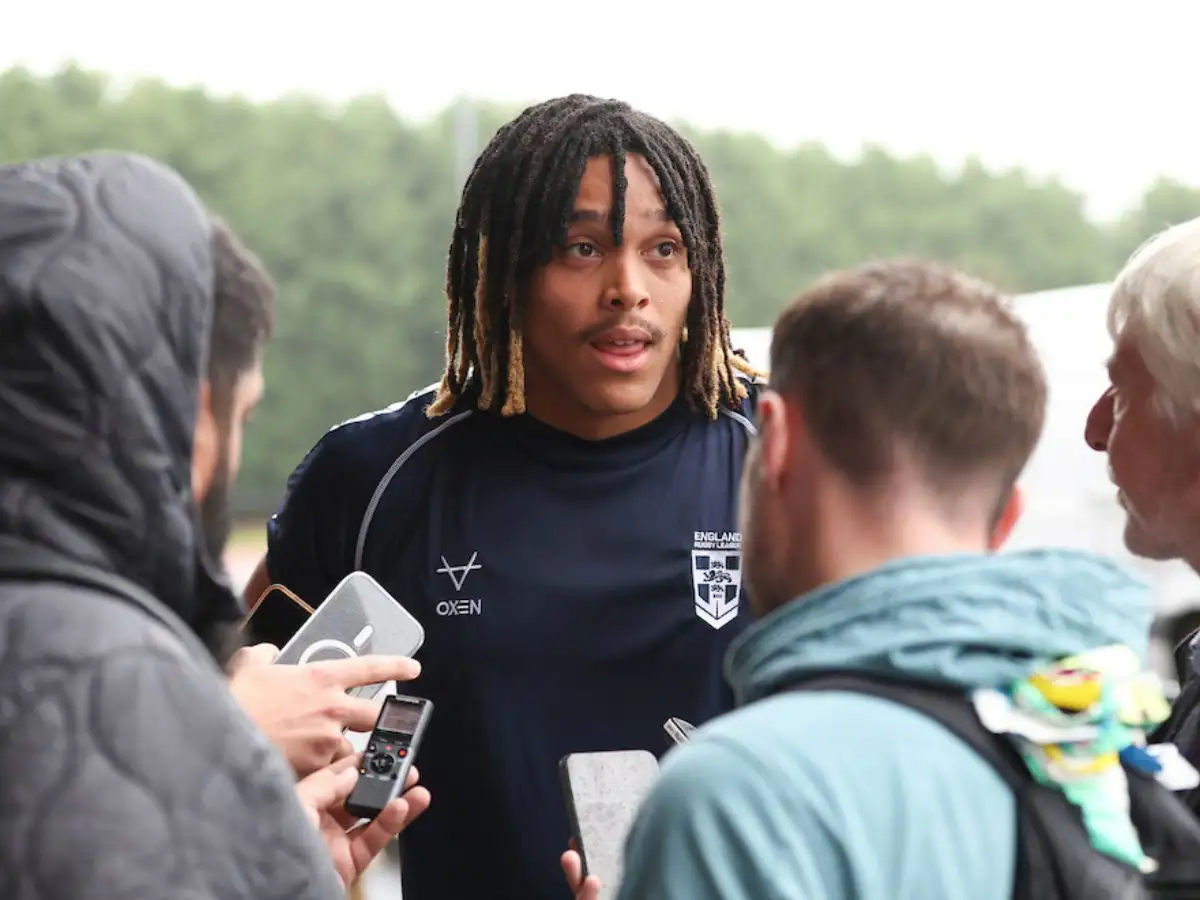 Newcastle Knights winger Dom Young says he doesn't think he would have made the England World Cup squad had he stayed at Huddersfield.
The 21-year-old has taken to the NRL like a duck to water. He has scored 18 tries in 26 appearances for the Knights since arriving ahead of the 2021 season.
His impressive performances Down Under caught the eye of England coach Shaun Wane, who selected him in his 24-man squad for the World Cup.
Young made his Super League debut for Huddersfield at when he was 17. But after the 2020 season, he decided to take his NRL opportunity after being told chances were limited at Huddersfield.
When asked if he thought he'd be in England's World Cup squad if he'd stayed at Huddersfield, he replied: "I don't think so, no.
"One of the main reasons I left Huddersfield was a lack of opportunities there. I've never really looked back since then, moving to Australia with Newcastle. In short, probably not, no."
Life in the NRL
Young, who is eligible to play for Jamaica, says he saw moving to Australia as 'nothing to lose'.
He said: "The opportunity to improve over there, it's a lot different how seriously they take things over there.
"I felt like I had nothing to lose going out there and taking that leap of faith. And I wanted to do it at a young age.
"I didn't know what to expect going out there but I love it. I love it in Newcastle in the NRL.
"In my first year, I wasn't too much of a regular but I fast-tracked my way in and felt like I belonged. I always felt as if I was in the right place."
Dom Young on his England ambitions
The 6ft 6in, 107kg winger says playing for England at the World Cup wasn't on his radar at the start of the year. He was actually going to represent his Jamaican heritage and play for the Reggae Warriors alongside his brother Alex, who plays for Workington.
"I put a good few performances together, things picked up a bit and then I spoke to Waney midway through the year," Young said.
"It gathered a bit of momentum from there. It was Magic Weekend when I first made contact with Shaun from my agent. I've been in touch with him since then.
"I think I do have a point to prove here (in England) because there's a lot of people here who probably haven't seen me play live. I definitely want to prove to them what I can do, show what I can do and make my mark in the World Cup. I'm not too bothered about impressing people, I'm just going to get my head down and do what I normally do on the field."
Young will make his England debut on Friday night. Wane's men face Fiji in a World Cup warm-up match at Salford.
Read more
KANGAROOS: Australia are not weakened: Victor Radley backs Kangaroos to shine
WORLD CUP: Full list of every squad at the Rugby League World Cup 2021
RED DEVIL: From building site to the World Cup: The incredible journey of Andy Ackers
FOLLOW: Keep up with all the latest on the Love Rugby League mobile app and podcast