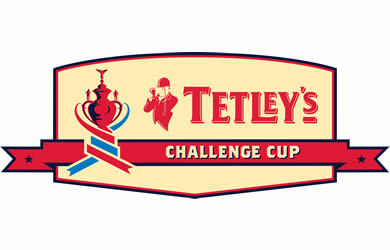 Workington Town forward Jamie Thackray says this weekend's Tetley's Challenge Cup fourth round game against local rivals Whitehaven at The Recreation Ground on Sunday (3.00) will be like a Cup final for both squads.
Thackray has plenty of big game experience, having appeared in the competition's showpiece final on two occasions and he believes this weekend's tie will be up there with the most intense games he has ever played and one that will test the younger players in both squads to the limit.
"I had the privilege of playing in two Challenge Cup finals and there really isn't anything like it," said the former Hull FC and Leeds Rhinos prop. "I remember walking out onto the pitch and the fireworks going off and the noise from the fans was indescribable – it was like a dream.
"Winning with Hull FC in 2005 was up there as the best moments of my career. It was a very special occasion and after the whistle went it was unreal. There's nothing better than that feeling and we all had a buzz for weeks afterwards.
"Losing to Saints in 2008 was a sad day as you always want to win as a player and none more so than when you're in a final at Wembley – but the experience was still incredible.
"For some of our lads, who have never played at that level, the game against Whitehaven will be a like a Cup final. The knock-out element of the Cup will add an extra element to the game and it will be more intense than most derby days.
"There will be several thousand hard core Cumbrian there on the day and they can make enough noise to rival any set of fans. I've played in a few derbies in my time at Workington and they are very intense games.
"There are some very talented players in both sides and the intensity lifts even higher on the day – there's some big lads in their team and we know it will be a very physical contest."
Workington booked their place in the fourth round of the Cup after a 24-16 victory over Carcassonne and Thackray is confident they can keep their winning momentum going and book their place alongside some of competition's elite as the games intensify in the fifth round.
"We got through a tough game against Carcassonne in the last round and it was good to do so," he said. "The fourth round draw couldn't really have been much better for the club.
"It's a local derby and there's been a bit of a buzz around the town and around training since the draw took place. We've some great talent in the club and everyone will be going that bit harder in training to try and get into the match day squad.
"Getting the chance to play against Super League opposition is a huge incentive for the lads in the squad. Playing against teams of that level is part of the magic of the competition – it's a one-off game on the day and anyone can beat anyone. It doesn't matter who the opposition is, if you play well you can win and we've seen some shocks in the past.
"We're in a good run of form against Whitehaven and hopefully we'll keep that going and keep our cup run going as well."
Tickets for the 2013 Tetley's Challenge Cup final at Wembley Stadium on Saturday August 24 are now on sale. Visit www.rugbyleaguetickets.co.uk or call 0844 856 1113 for full details.
Fans also have until the end of April to take advantage of a special upgraded ticket offer, which means fans who purchase a ticket for the final throughout the month will automatically receive a free upgrade to the next ticket pricing band. To take advantage of this great offer, please quote the promotion code UPGRADE01 when booking.