Comparing 2013 Rugby League World Cup attendances to 2021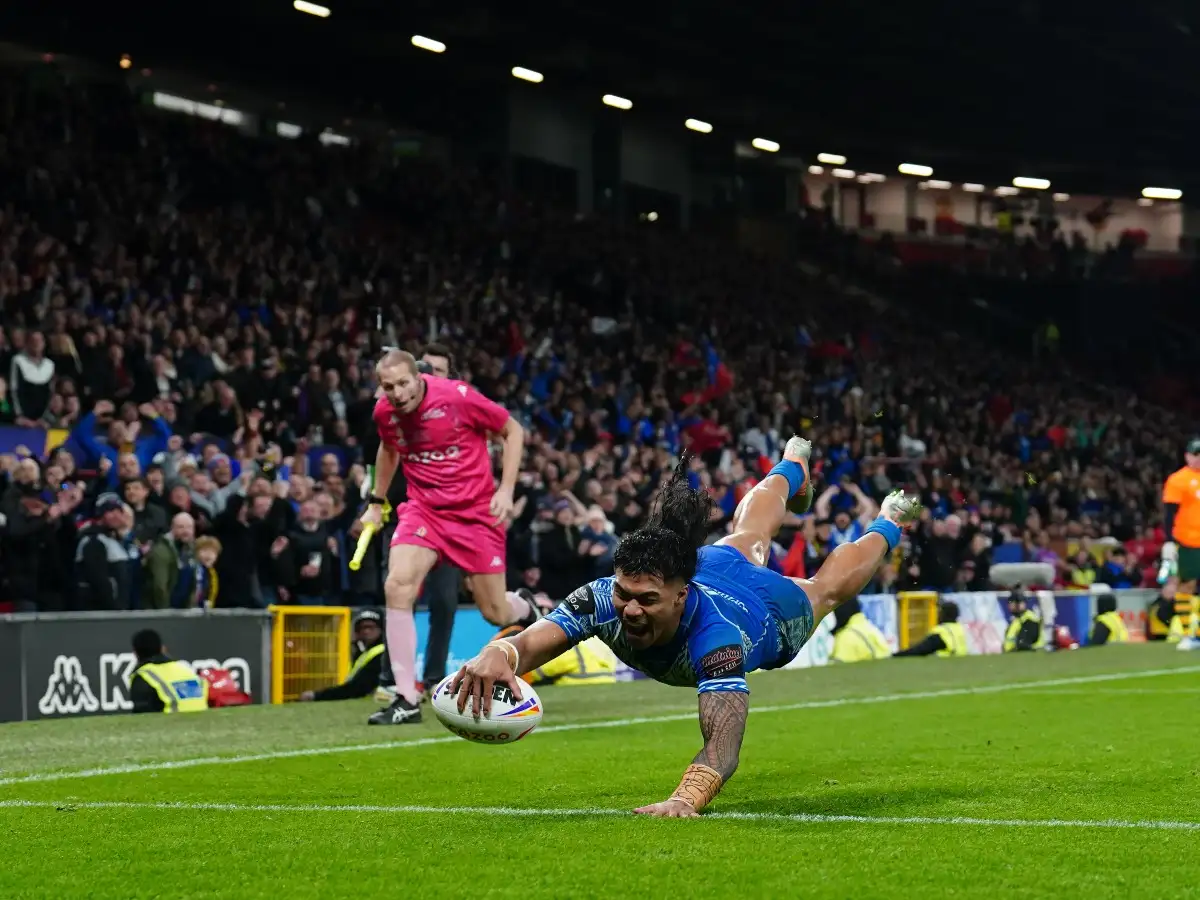 The 2021 Rugby League World Cup double-header finals at Old Trafford saw a crowd of 67,502, taking the aggregate for the men's tournament past 400,000. 
The aggregate of just over 400,000 falls below the record of 453,483 established for the last tournament in England in 2013.
The 2021 opener between England and Samoa saw a crowd of 43,199 at St James' Park, with a further 13,366 at Headingley Stadium for Australia versus Fiji, breaking an opening day record.
The double header back in 2013 at the then-Millennium Stadium in Cardiff recorded a crowd of 45,052 as Australia defeated England, before Italy claimed a 32-16 victory over Wales.
The 2013 final between Australia and New Zealand at Old Trafford also saw a crowd of 74,468, although 2021 World Cup chief Jon Dutton remained upbeat, insisting this year's brought in three times the revenue.
The men's 2021 World Cup saw an aggregate of 423,789, beating the 382,080 total from the 2017 World Cup in Australia and New Zealand.
Here are some more comparisons for 2013 and 2021 in the men's tournament.
Rugby League World Cup group stages
New Zealand's first game of the 2013 tournament came against Samoa at the Halliwell Jones Stadium with 14,965 in attendance. It's well over the recorded attendance for their opening clash in 2022, with a disappointing 5,453 against Lebanon at the same venue; possibly the most upsetting crowd of the tournament. 
France played Greece in their debut year in the competition in front of a crowd 4,182 at Doncaster. Their opening 2013 game came against Papua New Guinea at Craven Park, with 7,481 in attendance.
France also played two games on home soil back in 2013. 17,518 spectators in Avignon against New Zealand and 11,576 in Perpignan against Samoa.
The 2013 World Cup also saw games taken to Cumbria – something that was scrapped this tournament. 7,630 attended Workington's Derwent Park to witness Scotland beat Tonga 26-24. 
At the same venue, 7,280 saw Scotland and Italy draw 30-30. 
This year, the Bravehearts played two of their games at Kingston Park, Newcastle, with crowds of 6,206 versus Italy and 6,736 against Fiji.
The lowest crowd of the 2013 tournament came in Neath, with 3,270 for Wales against Cook Islands. 3,675 was this year's at Kingston Park as Fiji defeated Italy 60-4. 
2013 also saw a game taken to Limerick, as 5,021 witnessed Australia against Ireland. 
England's attendances
Elsewhere in 2013, England recorded attendances of 24,375 in Huddersfield against Ireland and 25,114 in Hull against Fiji. 
In the delayed 2021 tournament, Sheffield hosted its first-ever rugby league fixture between England and Greece with a crowd of 18,760.
This year also saw a record attendance of 23,648 between England and France in Bolton. It was the biggest-ever crowd to watch the two nations collide in England.
Quarter-finals
The 2013 quarter-finals saw an accumulative crowd of 57,011, an average of 14,252 between the four games. This year recorded 51,139 – the largest coming at the DW Stadium with 23,179 as England defeated Papua New Guinea. It was also the biggest attendance ever recorded for a single quarter-final fixture, while the Princess of Wales also attended.
Semi-finals
The semi-finals in 2013 saw a double-header at Wembley Stadium, as Shaun Johnson broke the hearts of England fans with a 20-18 scoreline, before Australia demolished Fiji 64-0. 67,545 fans attended the day in London.
The 2021 tournament topped that, with 68,602 across the two semi-finals – another record. Leeds United's Elland Road recorded 28,113 as Australia defeated New Zealand 16-14. It was also the first-ever rugby league fixture at the Emirates Stadium. 40,489 viewed on as Stephen Crichton kicked the golden point winner to knock out hosts England. 
Final
The 2013 World Cup final saw an attendance of 74,468 at Old Trafford, as Australia defeated New Zealand 34-2. The 2021 tournament saw a strong 67,502 as the Kangaroos claimed their 12th title with a 30-10 win over Samoa.
More World Cup content
James Tedesco ranks World Cup win at top of career achievements
Australia win Women's Rugby League World Cup final
England win Wheelchair Rugby League World Cup
FOLLOW: Keep up with all the latest on the Love Rugby League mobile app and podcast