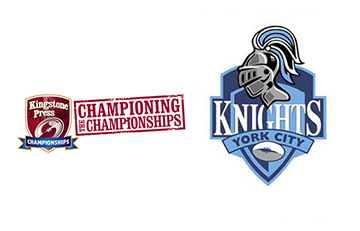 York City Knights General Manager and longest-serving member of staff Ian Wilson is leaving at the end of the season to take up a new job closer to his family home in Harrogate.
Gavin Wilson managed to catch up with him and get his thoughts on his time at the club and this season before he leaves the Kingstone Press Championship club.
Gav: You were at the Knights for the last 9 years, did you expect to stay that long when you joined all that time ago?
Ian: I never really had a timescale in mind but it didn't take me long to realise that it was a great place to work. The last nine years have been extremely enjoyable and I will always be grateful for the opportunity I have been given.
Gav: There's been plenty of highs and lows during that time, what stands out for you?
Ian: The two promotions in 2005 and 2010 are the obvious ones. Days like those make the more challenging times worth enduring and the memories from those times will live with me forever. The elation that everyone connected with the club on those occasions experienced was incredible. Also the opportunity to meet and work with some fantastic people, who are extremely passionate about the club and the sport of Rugby League.
Gav: It's been a tough season for Gary Thornton's men this year, particularly with some last minute defeats! Can they stay in the Kingstone Press Championship?
Ian: I believe that we can. We are up against it but a win against Hunslet this week would give us a chance. We still have a game in hand and have beaten Workington and Doncaster already this season, so there is no reason why we cannot do that again. It is important that everyone gets behind the players and the club as there is plenty to play for over the next few weeks.
Gav: What implications for York do you think the potential new league structures will have?
Ian: Difficult to say until it is confirmed as there are several factors to consider. The principle of two 12's into three 8's has its merits but how we get to that and what happens to the clubs outside of the 24 in the top two tiers is still unclear. The distribution of the money available is the most important item to confirm. If there is still going to be such a massive difference in funding then Championship Clubs will continue to struggle to match those from Superleague.
Gav: Is the club left in good hands now you're gone? Will you remain a fan?
Ian: I believe that the club is in good hands. Everyone is working extremely hard to make York City Knights the best it can be, although much of this work goes unseen by the general public. We have an excellent player pathway at the moment and if some of those players can progress into the first team over the next few years that will be a big help. Hopefully this pathway will continue for years to come as our development squads become more established.
I will definitely remain a fan and look forward to joining the supporters in the stands in 2014.
York City Knights face Hunslet Hawks at the Huntington Stadium in what is effectively a Kingstone Press Championship relegation decider. The game which kicks off at 3pm is also billed as a 'Heritage Game, with the Knights sporting a special one-off kit in the traditional amber and black hoops that were once synonymous with York RL. All former York RL players will have free entry to the game, and there will be much more happening around the match, which is undoubtedly one of the most important games since the Knights were formed in 2003.