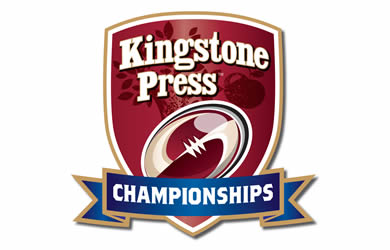 Kingstone Press Try of the Week – Liam Kay (Leigh Centurions)
Leigh Centurions winger Liam Kay finished an 80-metre move after just 26 seconds of the match against Rochdale Hornets.
The Centurions emerged 34-22 winners and Kay's finish, on only the second tackle of the game, was the highlight.
Leigh coach Paul Rowley said: "It was a great try, and the perfect way to start the game.
"Tommy Goulden started the move, passed the ball on to Tom Armstrong, and then Liam beat two players and sprinted 70 metres to the line. It was an exceptional finish."
Kingstone Press Performance of the Week – Halifax
Halifax produced their best performance of the season in inflicting only Doncaster's second defeat of 2014.
Coach Karl Harrison was pleased with his side's clinical display as they moved up to third place in the Kingstone Press Championship.
Harrison said: "That performance has been coming for a while.
"We could be sat here with six wins from six – the two games we lost came at Featherstone in the last five minutes, and against Batley in the last second when maybe we lacked some composure.
"On Sunday we talked about putting on an 80 minute performance of patience and execution, and Doncaster couldn't live with it."
Kingstone Press Championship Team of the Week
1 Miles Greenwood (Batley Bulldogs)
2 Dale Morton (Dewsbury Rams)
3 Cameron Pitman (Leigh Centurions)
4 Greg Worthington (Featherstone Rovers)
5 Scott Turner (Sheffield Eagles)
6 John Davies (Batley Bulldogs)
7 Ben Johnston (Halifax)
8 Tom Spencer (Leigh Centurions)
9 James Newton (Whitehaven)
10 Tony Tonks (Halifax)
11 Lee Doran (Whitehaven)
12 Rob Spicer (Dewsbury Rams)
13 Will Hope (Sheffield Eagles)
Kingstone Press Championship One Team of the Week
1 Marcus Elliott (Gloucestershire All Golds)
2 James Cameron (Hemel Stags)
3 Jimmy Watson (Hunslet Hawks)
4 Phil Cowburn (Gloucestershire All Golds)
5 Jamaine Akaidere (Hunslet Hawks)
6 Danny Grimshaw (Hunslet Hawks)
7 Matty Beharrell (Gateshead Thunder)
8 James Howitt (Hemel Stags)
9 Connor Farrer (South Wales Scorpions)
10 Chris Vitalini (South Wales Scorpions)
11 Jason Payne (Gateshead Thunder)
12 Phil Carleton (South Wales Scorpions)
13 Liam Mackay (Hunslet Hawks)