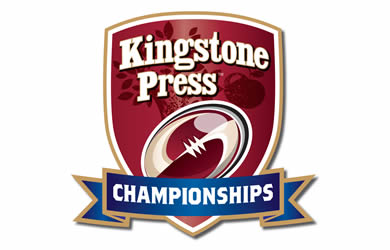 Kingstone Press Performance of the Week – Leigh Centurions
Leigh Centurions maintained their 100 per cent start to the season with an impressive 29-10 win at Featherstone Rovers.
It was Leigh's second win in eight days over the same opposition after they knocked them out of the Tetley's Challenge Cup.
Coach Paul Rowley said: "Momentum and confidence are big things in sport, and we've got both of them at the moment.
"We played Featherstone the week before and we didn't over-exert ourselves emotionally, so it wasn't difficult to get back up for the game again.
"We have a very level-headed approach and know that we only get rewards when we're working hard.
"That should ensure we never fall to complacency. It was a very good performance."
Kingstone Press Try of the Week – Shaun Ainscough (Whitehaven)
Whitehaven's Shaun Ainscough scored a superb individual effort from the unfamiliar position of full-back.
The former Wigan and Bradford winger was switched to the back by his coach Dave Woods, who saw the move pay dividends in a 30-10 win at Batley Bulldogs.
Woods said: "The ball went out wide to Brett Seymour, who found Shaun Ainscough out of the back.
"He beat three players and went through a hole.
"He then stepped inside the fullback and scored under the posts."
Kingstone Press Championship Team of the Week
1 Quentin Laulu-Togagae (Sheffield Eagles)
2 Scott Turner (Sheffield Eagles)
3 Lee Waterman (Doncaster)
4 Tom Armstrong (Leigh Centurions)
5 Richie Barnett (Keighley Cougars)
6 Ryan Millard (Rochdale Hornets)
7 Ryan Brierley (Leigh Centurions)
8 Anthony Walker (Rochdale Hornets)
9 James Newton (Whitehaven)
10 Sean Hesketh (Keighley Cougars)
11 Kurt Haggerty (Leigh Centurions)
12 Lee Doran (Whitehaven)
13 Liam McAvoy (Workington Town)
Kingstone Press Championship One Team of the Week
1 James Cameron (Hemel Stags)
2 Callum Mulkeen (Oxford)
3 James Saltonstall (York City Knights)
4 Jarrod Ward (Gloucestershire All Golds)
5 Omari Caro (Gateshead Thunder)
6 Lewis Palfrey (Oldham)
7 Matty Beharrell (Gateshead Thunder)
8 Chris Vitalini (South Wales Scorpions)
9 Jack Lee (York City Knights)
10 Michael Ward (Oldham)
11 Jason Payne (Gateshead Thunder)
12 Danny Langtree (Oldham)
13 Dave Williams (London Skolars)