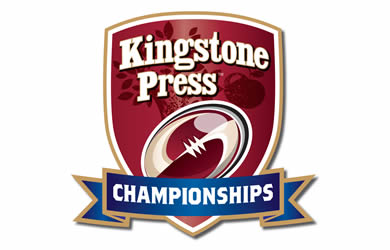 Kingstone Press Performance of the Week – Oxford
Oxford produced one of the biggest shocks of the Kingstone Press Championship One season with a 24-16 win against York City Knights.
Oxford coach Tony Benson said: "It was a really good win for us, and the way we did it shows we're starting to establish ourselves at this level.
"York had all the ball in the last 10 minutes but we held them out and got a late try ourselves, which gives us a lot of confidence. It takes a huge effort to do that."
Benson added: "We had another player on debut – Ed Hayles, who's a stockbroker – and we're now predominantly using local players. It was a great effort all round."
Kingstone Press Try of the Week – Kevin Penny (Swinton Lions)
Swinton Lions winger Kevin Penny was on hand to capitalise on excellent work from teammate James Brown during the win over Dewsbury Rams.
Penny – who finished with two tries – was first to the ball after Brown had beaten a host of defenders before kicking to the in-goal.
Swinton coach Ian Watson said: "James came onto a ball on the edge and bounced off their halfback.
"He came inside and faced three defenders and came through that tackle as well, then another came in and he handed him off as well.
"Then he showed great vision to put a little kick in, and nobody is going to beat Kevin Penny over a short distance like that."
Kingstone Press Championship Team of the Week
1 Wayne English (Rochdale Hornets)
2 Adam Higson (Leigh Centurions)
3 Josh Griffin (Batley Bulldogs)
4 Greg Worthington (Featherstone Rovers)
5 Kevin Penny (Swinton Lions)
6 Martyn Ridyard (Leigh Centurions)
7 Ryan Brierley (Leigh Centurions)
8 Zach Johnson (Swinton Lions)
9 Paul Crook (Rochdale Hornets)
10 Adam Walne (Barrow Raiders)
11 Lee Waterman (Doncaster)
12 Matt Garside (Sheffield Eagles)
13 James Brown (Swinton Lions)
Kingstone Press Championship One Team of the Week
1 Sean Morris (Oxford)
2 Jamaine Akadaire (Hunslet Hawks)
3 Phil Cowburn (Gloucestershire All Golds)
4 James Woodburn-Hall (London Skolars)
5 Dale Bloomfield (Oldham)
6 Jimmy Rowland (Oxford)
7 Matt Bradley (London Skolars)
8 James Houston (Hunslet Hawks)
9 Kenny Hughes (Oldham)
10 Dave Ellison (Oxford)
11 Danny Langtree (Oldham)
12 John Oakes (Hunslet Hawks)
13 Martyn Smith (London Skolars)