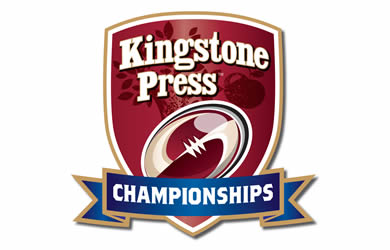 Kingstone Press Performance of the Week – North Wales Crusaders
North Wales Crusaders responded to a heavy home defeat against Sheffield Eagles by shocking top four contenders Halifax 12-6 at The Shay.
First half tries to winger Rob Massam and prop Mark Offerdahl helped Crusaders to a crucial win.
Coach Clive Griffiths said: "We defended with pride and shape.
"It was a really good, old-fashioned game of rugby league.
"Mark Offerdahl led us from the front – we needed a crow bar to get him off the field."
Kingstone Press Try of the Week – Tom Hodson (Doncaster)
Doncaster winger Tom Hodson provided a spectacular corner flag finish in his side's 29-20 defeat at Whitehaven.
Hodson – starting his second spell at the club after signing in midweek – was fully in mid-air when he grounded the ball out wide.
Dons coach Paul Cooke said: "It was an outstanding finish.
"We had a scrum play on our left, moved the ball to the right and Tom scored right in the corner."
Kingstone Press Championship Team of the Week
1 Shaun Ainscough (Whitehaven)
2 Stuart Reardon (North Wales Crusaders)
4 Greg Worthington (Featherstone Rovers)
6 Danny Jones (Keighley Cougars)
7 Paul Handforth (Keighley Cougars)
8 Mark Offerdahl (North Wales Crusaders)
9 Sean Penkywicz (Leigh Centurions)
10 Andrew Dawson (Barrow Raiders)
11 Lee Mitchell (Whitehaven)
12 Brett Phillips (Workington Town)
13 Liam McAvoy (Workington Town)
Kingstone Press Championship Team of the Week
1 Ben Reynolds (York City Knights)
2 Ben Dent (York City Knights)
3 James Saltonstall (York City Knights)
5 Andy Ballard (Hunslet Hawks)
6 Pat Smith (York City Knights)
7 Matty Beharrell (Gateshead Thunder)
8 James Howitt (Hemel Stags)
9 Connor Farrer (South Wales Scorpions)
10 Michael Haley (Hunslet Hawks)
11 Jason Payne (Gateshead Thunder)
12 Mike McMeeken (London Skolars)
13 Richard East (South Wales Scorpions)