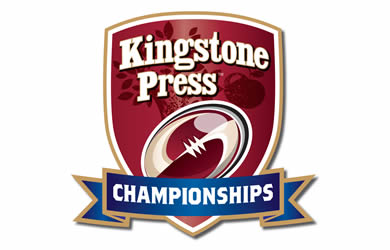 Premier Sports Performance of the Week – Whitehaven
Promoted Whitehaven made it two wins in as many matches with a 12-16 win at Keighley Cougars.
The Cumbrians backed up their opening day victory over York City Knights with another accomplished performance.
First-half tries from Cain Southernwood and Lee Paterson gave them a 10-point interval advantage, and Neil Thorman's second-half try sealed matters.
"We're still learning at this level but defensively we were outstanding," said Woods.
"Defensively we've been very, very good, and although we've been a bit naïve with the ball at times, that will come.
"To win two out of two against teams that have been there is a great start for us."
Premier Sports Try of the Week – James Ford (York City Knights)
James Ford's score for York helped the Knights on their way to a 34-12 win over Swinton.
York coach Gary Thornton said: "Tom Carr made a great break, bursting through Ian Watson's tackle, and James Ford produced some superb support to finish from distance. It was a well-worked try."
"James is our club captain and gives us some real strike on the left edge, but he's also got pace, experience and reads the game very well. He scored a very similar try from a break by Jack Lee at Whitehaven in the opening weekend."
Premier Sports Team of the Week
1 Lee Waterman (Doncaster)
2 Tom Lineham (York City Knights)
3 Steve Tyrer (Halifax)
4 Scott Hale (Dewsbury Rams)
5 Jonny Pownall (Leigh Centurions)
6 Peter Lupton (Workington Town)
7 Cain Southernwood (Whitehaven)
8 Dave Houghton (Whitehaven)
9 Kyle Kesik (Doncaster)
10 James Lockwood (Featherstone Rovers)
11 Jack Bussey (Featherstone Rovers)
12 Peter Green (Sheffield Eagles)
13 Sam Hopkins (Leigh Centurions)