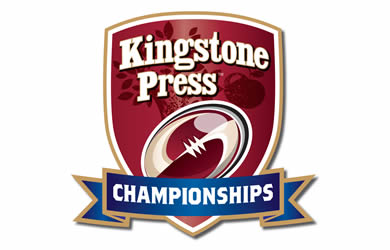 Kingstone Press Performance of the Week – Featherstone Rovers
Featherstone Rovers scored three tries in the final 15 minutes to seal victory in an excellent advert for the Kingstone Press Championship against Halifax, and secure the Performance of the Week.
Will Sharp, James Cording and James Mendeika all crossed to overturn a 12-20 deficit against a Halifax side who had big performances from Ben Johnston and Andy Bracek.
Featherstone coach John Bastian said: "I thought that Halifax certainly came here and tested us – it was a close call.
"We found some momentum in the last 15 or 16 minutes of the game and scored three tries to secure a very good result.
"I was delighted with the resilience and attitude of the players in that period of the game."
Rovers players Mendeika, Ben Hellewell and Tim Spears all make the Kingstone Press Team of the Week, while they also had significant contributions from Cording, James Lockwood and Jack Bussey.
Kingstone Press Championship Team of the Week
1 James Mendeika (Featherstone Rovers)
2 Scott Turner (Sheffield Eagles)
3 Ben Hellewell (Featherstone Rovers)
4 Lee Paterson (Batley Bulldogs)
5 Stewart Sanderson (Doncaster)
6 Keiran Hyde (Dewsbury Rams)
7 Ryan Brierley (Leigh Centurions)
8 Jake Emmitt (Leigh Centurions)
9 Bob Beswick (Leigh Centurions)
10 Andrew Dawson (Barrow Raiders)
11 Tim Spears (Featherstone Rovers)
12 Mike Kelly (Doncaster)
13 Andy Bracek (Halifax)