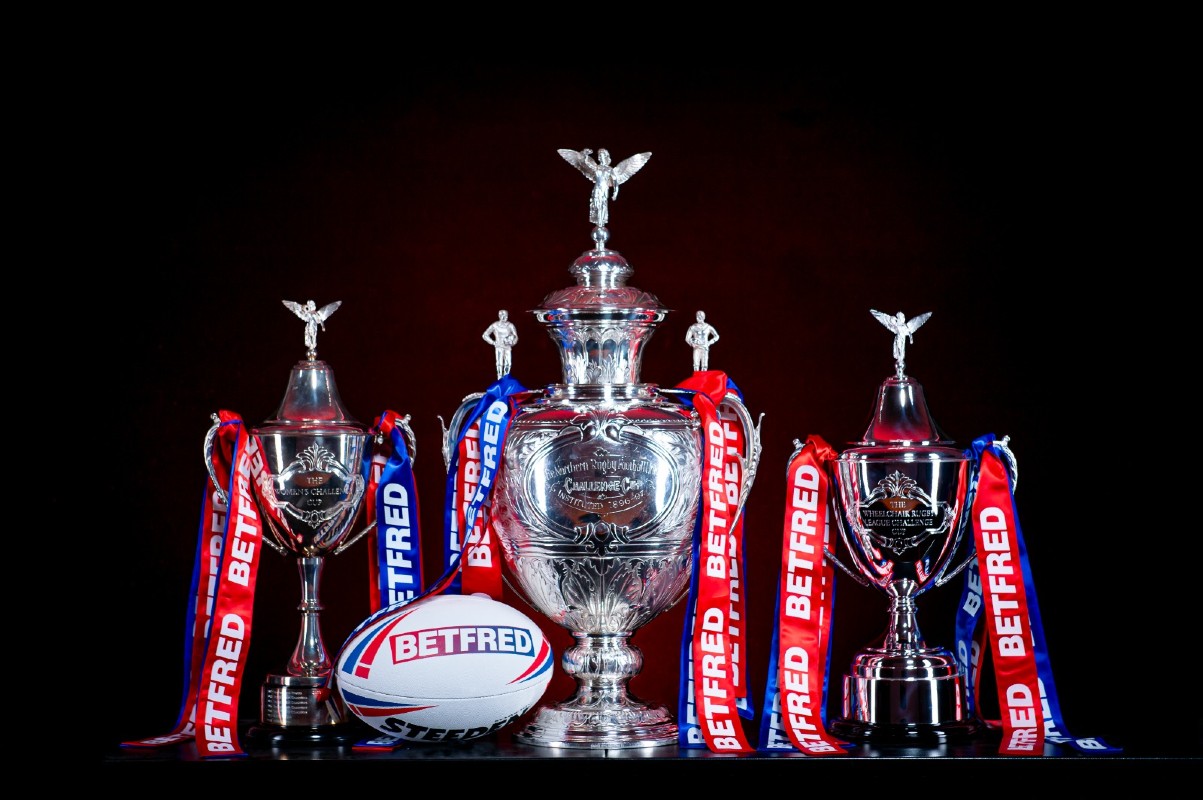 The 2021 officially gets underway this weekend as 13 Championship sides and three from League One participate in the first round of the newly sponsored Betfred Challenge Cup.
HOW TO WATCH: Your feast of live rugby league is here – watch all 50+ games in 17 days
Sheffield v York (Friday, 7.45pm, The Sportsman)
The very first game of the 2021 season sees Sheffield play York at the Eagles new, temporary home at the Keepmoat Stadium.
The game will be live streamed for free via The Sportsman website and social media channels, as part of their partnership with Betfred.
York are without on-loan half-back Riley Dean, but could hand debuts to Ryan Atkins, Kieran Dixon, Danny Kirmond and Ben Jones-Bishop, amongst others.
Sheffield have a double incentive to get through this match too – as it counts as the first step of their defence of the 1895 Cup title they won in its inaugural season in 2019.
🏆 Tonight's @Betfred @TheChallengeCup match also counts towards the 1895 Cup.

👍 Win and we're through to face London or Keighley for a place in the semis.

👎 Lose and it's game over for both competitions.

😄 Does anyone know what happened in the 1895 Cup two years ago? pic.twitter.com/aUEBDOmInL

— Sheffield Eagles (@SheffieldEagles) March 19, 2021
Sheffield: Guzdek, Worrincy, Glover, Millar, Thackeray, Davey, James, Knowles, J Farrell, Brown, Burns, Davies, Ward, Dickinson, Broadbent, Burns, I Farrell, Tyson-Wilson, Johnson, Render, Adlard.
York: Marsh, Bass, Salter, Atkins, K Dixon, O'Hagan, R Dixon, Jubb, Teanby, Clarkson, Scott, Brining, Baldwinson, Stock, Kirmond, Green, Porter, Whiteley, Jones-Bishop, Washbrook, Dow-Nikau.
Oldham v Barrow (Saturday, 12.45pm, Our League)
Long-serving forward Phil Joy is absent for Oldham, who will be looking to avoid an upset at the hands of League One side Barrow at Bower Fold.
Ben Heaton and Tyler Dupree return from slight knocks for Matt Diskin's side.
Barrow, some two months out from the start of their league season, fancy themselves for a cup run and have two sets of brothers in their 21-man squad.
Oldham: Abram, Brierley, Heaton, Ince, Charnock, Owen, Spencer, Langtree, Bent, Reilly, Nemles, Dupree, Kirk, Fletcher, Sheriffe, Pick, Green, Roberts, Bridge, Barran, Holcrofy, Hartley, Gregory.
Barrow: Bustin, Carter, Crellin, Cresswell, Dallimore, Duffy, Forster, Harrison, Hopkins, Hulme, Johnston, Morrow, Ritson, Shaw, Stack, Swarbrick, D Toal, S Toal, Tyson, A Walne, J Walne
London Broncos v Keighley (Saturday, 3pm, Our League)
London welcome Keighley to Rosslyn Park, where they have been training in pre-season after leaving Ealing Trailfinders.
NEW HOME: London unlikely to play at Wimbledon in front of crowds until at least July
Their stand-out signing of the winter, Jarrod Sammut, is not named in Danny Ward's squad.
Keighley boast one of the feelgood rugby league stories of the year in father and son Quentin and Phoenix Laulu-Togagae, who are both named in their squad for what could be another history making occasion.
how its started how it's going pic.twitter.com/vNYlzPwVNo

— Keighley Cougars (@Cougarmania) March 18, 2021
London: Miski, Horsman, Davis, Hankinson, Chamberlain, Hodson, Blakemore, Boafo, Lovell, Curran, Jones, Walters, Williams, Navarrete, Aston, Latu, Meadows, Gwaze, Richards, Hindmarsh, Krasniqi.
Keighley: Q Laulu-Togagae, Agoro, Prell, Matamosi, Miller, Coventry, Kesik, Muranka, Parker, Levy, Wright, Gaylor, Santi, Bailey, Moran, Stead, Arnold, Lynam, Braham, Graham, P Laulu-Togagae
Whitehaven v Dewsbury (Saturday, 5.15pm, Our League)
Whitehaven: TBC
Dewsbury: Martin, Gabriel, Ryder, Fleming, Oakes, Sykes, Finn, Morris, Butterworth, Garratt, Walton, Knowles, Day, Tomlinson, Scott, Dixon, Hall, Magrin, Schofield, Carr, Abram.
Halifax v Batley (Saturday, 7.30pm, Our League)
A new era begins for Halifax as they play their first competitive game as the Panthers against league rivals Batley.
Their only noticeable absentee is Greg Worthington, while recent signing from Hull KR Nick Rawsthorne is set for a second debut at the club, five years after his first.
Halifax: Grix, Rawsthorne, Woodburn-Hall, Saltonstall, Harris, Robinson, Morris, Moore, Murray, Garside, Barber, Fairbank, Larroyer, Springer, Calcott, Co Davies, McGrath, Cu Davies, McComb, Tibbs, Brearley
Batley: Hooley, Buchanan, Campbell, White, Gilmore, Gledhill, Logan, Leak, Everett, Walshaw, Blagbrough, Ward, Tonks, Senior, Lillycrop, Hall, Broughton, Morton, Kaye, Flynn, Ineson.
West Wales v Widnes (Sunday, 12.45pm, BBC)
Former cup kings Widnes travel to face West Wales Raiders on Sunday in a first ever meeting between the two sides.
Rangi Chase and Gavin Henson have provided all the headlines for this one, with Chase going up against one of his former clubs.
The Vikings are without hooker Logan Tomkins, due to a foot injury, while new signing Lee Jewitt is also sidelined through injury.
READ MORE: Rangi Chase relishes Wales challenge
West Wales: Bateman, Snook, Bodman, Evans, Philips, Nadaubale, Boginsoko, Stroud, Henson, Murphy, Vakalalabure, Burke, Webb, Conner, Allen, Evans, Cowburn, Chase, Herron, Morgan, Naulusala
Widnes: Owens, Spedding, Tyrer, Cross, Craven, Smith, Clough, Cook, Grady, Lawton, Baker, Dwyer, Farnworth, Lyons, Edge, Buckley, O'Neill, Wilde, Else, Tilleke, Hill.
Featherstone v Bradford (Sunday, 3pm, BBC)
Featherstone: Hall, Blackmore, Hardcastle, Gale, Chisholm, Kopczak, Brown, Harrison, Day, Lockwood, Jones, Bussey, Minns, Cooper, Field, Halton, Parata, Ferguson, McConnell, Spence, Whitton.
Bradford: Brough, Brown, Crossley, Doyle, B England, Evans, Flanagan, Fleming, Gallagher, Hallas, Hamlett, Jowitt, Nzoungou, Oakes, Pickersgill, Race, Rooks, Sanderson, Scurr, Walker, Wallis.
Swinton v Newcastle (Sunday, 5.15pm, Our League)
Swinton: TBC
Newcastle: Young, Johnson, Wright, Turner, Shorrocks, Woods, Wilde, Wood, Ta'ai, Wilde, Simons, T Chapelhow, J Chapelhow, Bailey, Clegg, Hodgson, Oakley, Dean, Brown, Clarke, Tyrer.