Catalans have been given the go-ahead to start pre-season training from next Monday.
The Dragons players have been training on their own due to tight coronavirus restrictions in France but have received the green light to come together at the Gilbert Brutus Stadium from Monday.
READ: Hard work, points percentage and flight plans: How rugby league is tackling cross Channel competition in COVID
That will give Catalans head coach Steve McNamara just under four weeks to prepare his team for their opening Super League game against Hull KR at Headingley on March 27 but he is confident they will be ready.
McNamara said: "It will be great to get the squad back together. The players have been extremely disciplined in their individual training whilst being understanding of the club's situation.
"The players and staff are fully aware of the importance of the next four weeks of preparation.
"We will maximise the limited time we have, combining our opposed training sessions along with two trial games to ensure we are ready for round one."
Dean Whare, signed from Penrith Panthers as a replacement for the departed David Mead, is still awaiting his visa but Catalans football manager Alex Chan is confident the New Zealand international will be available for the opening league game.
Chan said: "We're trying really hard to get him over as fast as we can. Obviously with the current environment it's hard to get someone across, we've got a lot of red tape that we are trying to sift through.
"Hopefully we're in the final stages of getting his visa sorted out and my initial hope is that he gets on a plane this week."
The future of Israel Folau remains unclear as he remains with his family in Australia, taking care of his seriously-ill mother-in-law.
St George Illawarra dropped their initial interest in signing the dual-code international and Chan says the Catalans have not given up hope of having him back in 2021.
Chan said: "It's an ongoing saga. We've given him the time he needs. The priority is the welfare of him and his family. They're going through some really testing and trying times with his mother-in-law's health.
"We've told Izzy to take as long as he needs and we're only a call away if they need anything we can help with. We're still forever hopeful that everything will get better and we'll be able to get him back in camp."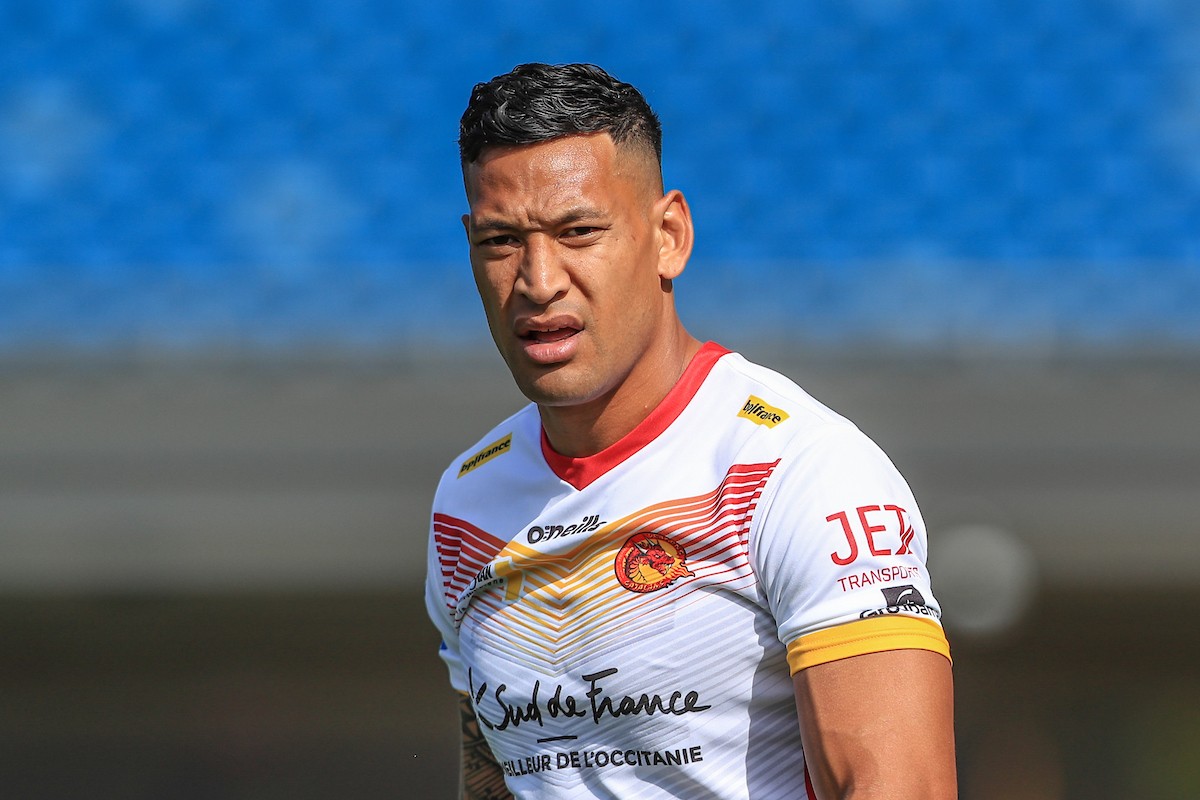 McNamara's threequarter resources are stretched through the loss of Arthur Romano for the season with a ruptured ACL.
Meanwhile, Chan says the Catalans should not be adversely affected by new regulations forcing elite athletes to quarantine for up to 10 days on their return to the UK from overseas.
READ: Concerns grow over Toulouse's Championship place after quarantine rule change
The Rugby Football League has admitted the ruling could cause difficulties for Championship clubs with part-time players returning from matches against Toulouse but Chan said: "It shouldn't impact on us.
"We live in that environment anyway. We have been and will continue to live in our own bubble until the Government regulations change.
"I definitely see it as an issue for Toulouse in the Championship where clubs do still have part-time players. I hope things pan out best they can."
A Toulouse spokesman said: "With the RFL, we are collectively working through all of the regulation and protocols, with the aim to find the best possible solution."
READ: French Rugby League – Forbidden No Longer
Rugby League Nostalgia is here! Get involved with Love Rugby League's new group on Facebook to share all your rugby league nostalgia and celebrate the rich heritage of our sport.