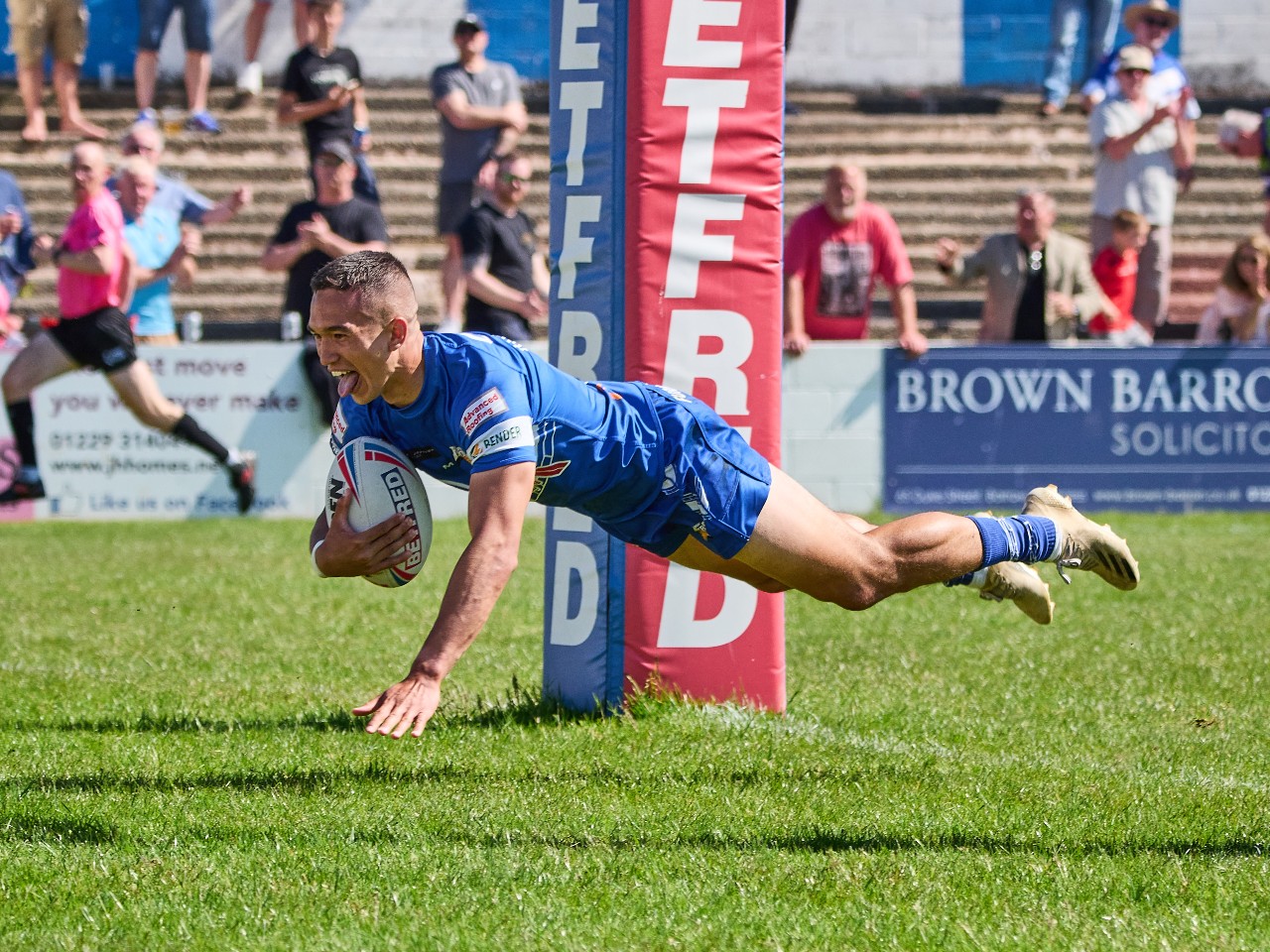 Barrow winger Tee Ritson says the team's strong chemistry has helped achieve an unbeaten start to the 2021 Betfred League 1 season.
The Raiders have defeated Coventry, Keighley, Hunslet, North Wales Crusaders and West Wales Raiders, tallying up a total of 211 points scored, including six tries from Ritson so far in the 2021 campaign.
Paul Crarey's side remain the only undefeated team in the competition, with a strong relationship the key to success.
Ritson said: "The teams grown stronger every week and we've become a real tight unit. There's a great camaraderie within the camp and that chemistry leads on to us working harder for each other on the field. But we know we are only five games in and we must keep our feet firmly on the ground, there is still a lot of hard work for us to do.
"We would love to get promotion this year, and I believe the team we have is more than capable. But we just take it week by week, we're not focusing on the future or any games down the line. Our focus is just on our next game, one game at a time. Our feet are firmly on the ground and we are working hard every week."
Ritson has combined his form on the field with a role with the Barrow Raiders Community Foundation off the field, delivering sports and fitness classes and programmes to people of all ages.
🥊 Boxercise session today with Tee Ritson and Callum Bustin!

🙌 Any fitness levels welcome, all you need to bring is water! Over 16s only.

📅 Every Tuesday, 5-6pm, £3 per session. Outside the Matt Johnson Prestige Stadium.

💻 Book your place with advantage@barrowrlfc.com. pic.twitter.com/VSeXtel5Yd

— Barrow Raiders (@BarrowRaiders) June 8, 2021
And it was the speedster who put in a five-star performance most recently in the battle of the Raiders, as he claimed a hat-trick against West Wales to make it five wins on the bounce.
The club also announced that for the second time this season, fans can enter the Matt Johnson Prestige Stadium for free before 1:00pm for Saturday's clash with Rochdale.
"I'm happy that we have been winning and I'm pleased that I have contributed to those wins in some way, however there is always room for improvement," Ritson added.
"Yes, I have done some good things in the opening games so far but personally I tend to look at the areas where I need to improve rather than think about the good stuff I have done, and then focus on tidying those areas up.
"The club are doing huge things and it's great to be a part of. There was almost 2,000 people in our first game back and the atmosphere was electric, and it's credit to Steve Neale (chairman) and all the backroom staff for making it happen.
"Being part of the community team is also hugely rewarding as I can see first hand the effects of the work. I've been to schools and coached kids who have never played rugby before, and some of those kids have took a real liking to the game and even came to our first game back the other week, and personally that's one of the most rewarding things for me to see. I'm confident the club can continue to grow the game furthermore and I'm excited to continue helping out in any way I can."