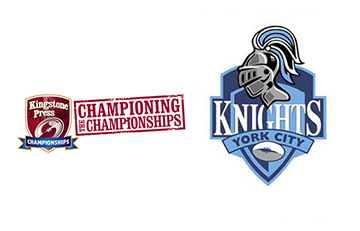 York City Knights backrower Ryan Backhouse has been named as Kingstone Press Championship One Player of the Week.
The player had a key role in his team's 20-18 win over Hunslet Hawks, creating York's first try in the game.
York coach Gary Thornton said: "Ryan did 55 minutes for us, produced the turning point when James Ford scored, and made a host of clean breaks on the left edge throughout the game.
"He's played really well over the last two weeks, and he's getting better and better. He's progressing week by week.
"He's a skilful player who creates a lot of tries from offloads in the tackle. He's not the biggest, but he's got good footwork at the line, and strength to go with it. His decision-making is also very good."
A York player also scored the Kingstone Press Try of the Week, with Colton Roche's effort against the Hawks being recognised.
The prop's effort six minutes from time clinched the win for the City Knights, and could be vital in their bid to top Championship One.
Knights coach Gary Thornton said: "Colton's been excellent for us. He took a while to settle in, but now he's got his fitness and game-speed up, he's been a great addition for us.
"He took the ball about 15 or 20 metres away from the Hunslet line, and used all his strength to carry three or four defenders over with him.
"For a big fella he's got some terrific pace, and he uses it really well at the line."
Kingstone Press Championship One Team of the Week
1 Jordan Meads (Gateshead Thunder)
2 James Saltonstall (York City Knights)
3 David Cookson (Oldham)
4 Mufaro Mvududu (London Skolars)
5 Ilies Macani (London Skolars)
6 Steven Roper (Oldham)
7 Benn Hardcastle (Gateshead Thunder)
8 RIchard Moore (Hunslet Hawks)
9 Connor Farrer (South Wales Scorpions)
10 Lee Fewlass (Gateshead Thunder)
11 Josh Crowley (Oldham)
12 Ryan Backhouse (York City Knights)
13 Harrison Elliott (South Wales Scorpions)