As we're saying our goodbyes over Zoom, Anthony Mullally has one small suggestion: "Maybe don't make me look too crazy."
Speaking from the south of France, where he now plays his rugby in the Elite One Championship for Carcassonne, Mullally makes for a fascinating interviewee. Over the course of an hour, he speaks articulately and in detail about complex subjects such as mental health, the environment and masculinity, as well as a burgeoning interest in the 1960s psychedelic movement, often ending his sprawling answers with a stereotypically northern bluntness: "So yeah, that's that."
Forging a career in a game that is so often derided as parochial and claustrophobic, the former Leeds prop has appeared for clubs in three separate continents and four different countries, representing a fifth, Ireland, at World Cups home and abroad.
After leaving Toronto following their expulsion from Super League, he spent his summer living in a camper van and surfing in Cornwall but laughs off comparisons to Alex Honnold, the death-defying American rock climber whose own life living on four wheels is subject of the documentary Free Solo. 
"I don't know about that, mate – I'm like a Smart Price version!" he says. "It's always been the case: at heart I am Alex Honnold, but I'm in a rugby player's body. I'm like a nomad who plays rugby."
Known as The Vegan Warrior, on the pitch Mullally's long locks create the illusion that Conan The Barbarian has been cast in This Sporting Life, while his nickname also reflects his growing passion for sustainable living and reconnecting with the natural environment around him.
At a time when it's easy to feel that the lunatics have taken over the asylum in society, the line between madness and sanity is only becoming more blurred. Is Anthony Mullally crazy? Maybe. Is he unique? Undoubtedly.
The first steps on this unconventional path were taken when Mullally, now 29, was still a teenager. Spending the 2011 season on loan at Brisbane Broncos' Under-20s from Widnes Vikings, he began the year "embarrassing himself" by making the most of the free drinks on offer at the club's red-carpet season-launch party but ended his time in Australia with a month-long trip that gave him a taste for adventure which has only become more fevered.
"The contrasts in environments and cultures was a crazy change. It was amazing," he says. "I got my backpack and did some of the east coast. That kind of sparked it for me. I stayed in hostels and I always envied that freedom in the people I was seeing. That wanting to be free stayed in me, that's why in my off-seasons I've been to South America, surfing in Central America, Asia – I've always done quite big trips."
First, though, he had to return to Widnes and establish himself as a Super League player. The early years of his career followed a recurring pattern. Loan spells in the Championship helped Mullally prove himself to both Widnes and latterly Huddersfield, only for agreed transfers – first from Widnes to Huddersfield, and then from the Giants to Leeds – meaning both clubs "got a bit funny" and sent him out on loan again.
Still, he had shown enough promise to earn a move to a Leeds Rhinos side coming off the back of winning the treble in 2015. As much as the chance to win silverware was a driver behind the move, Mullally is refreshingly honest when discussing another factor in his decision.
"I was living in Leeds and, to be honest, I was 24 and really liked that Headingley scene, going out with the lads and getting drunk. It was probably an image thing if I'm looking back now, wanting to go there and be like a Big Leeds Player. Obviously to win silverware, but if I'm being honest, it was an ego thing. I wanted people to see me and think, 'He plays for Leeds.' 
"My agent just got on it. I said to him, 'Get me to Leeds,' and he did. They were interested, don't get me wrong, but I'd been planting the seed for a while. I probably put myself on their radar with my keenness. That year I had a few good games against Leeds, so that helped me as well."
With the Rhinos, Mullally first encountered life under head coach Brian McDermott, whom he later reunited with at Toronto. Like Mullally, McDermott is happy to think outside of the box, and the player considers his former mentor a good friend. Their relationship, however, did not click immediately.
"What were my first impressions? Weirdo!" Mullally says. "He's an interesting guy. Me and Macca are really good friends now, we still speak. We've been through a lot together, as a lot of players have with him.
"At first you just don't know where you stand. You don't know what's going on, and you have to prove yourself to him. Once you do that and do what he wants you to do, everything is fine."
He adds: "As an athlete I've got a lot of ability, it's just sometimes I only get the best out of me when I'm really motivated. He's good at creating a story each week. He knows you can only focus on so many things each week, so he really nails down on one point – that's what he does really well. I'm hoping to see him coaching again soon."
If Mullally joined Leeds to win trophies and enjoy the glamour of playing for a big club, his first season at Headingley quickly brought him back down to Earth. A year on from their clean sweep of honours, the Rhinos missed out on the play-offs and battled against relegation for much of 2016.
Mullally failed to find his best form. Looking back, he now admits he was too quick to blame others rather than take responsibility for his own performances. Off the back of "some realisations of where I was and where I thought I was", he returned for pre-season ahead of the 2017 season with only one goal in mind: doing everything he possibly could to win the Super League title.
That target seemed ludicrous when Castleford Tigers inflicted a record 66-10 defeat on Leeds in the fourth game of the season, but Mullally was one of the few Rhinos players to emerge from that game with any credit, coming off the bench to inject some sorely lacking energy and physicality, scoring a try.
From there, his performances – and his hair – grew and grew as his barnstorming runs off the bench began to cement him as something of a cult hero on the terraces. The team's collective performances also improved as Leeds gradually gathered momentum as the season went on.
Despite losing four times to runaway league leaders Castleford over the course of the regular season, Leeds suffocated the Tigers in the Grand Final with a dominant 24-6 victory. Mullally had his winner's ring. But, just like his month travelling up and down Australia's east coast, it proved a catalyst for another change in mindset.
"I was just really determined. I wanted to win Super League. I wanted to play every week. I remember having this steely determination and drive – I probably used that up in that season," he laughs.
"It's completely exhausting. I was speaking to Jamie Jones-Buchanan at the start of the 2018 pre-season and I said to him, 'How do you try to go again every year? The thought of trying to win this Grand Final now seems like Everest, I just don't have the motivation to do it.' 
"Obviously Mac is like, 'Win again.' He gets a lot of pressure from the top. At Leeds you win and you win again. You've got to keep winning. I'm not calling out Leeds, I love the club, but that's the culture. They'll tell you themselves, they want to win every year. That's completely fine if you want to do that, but that's not me.
"The whole thing was amazing, I'm so glad I've done it, but at the same time: I've done it now, so I don't have to do it again. I don't want to do it again.
"That's what put me on the trajectory of going more internally on what's actually important, and the fact we can't put too much importance on achieving these external things to bring validation and fulfilment that we think we need. After the final I was like, 'Well what do I do now?' That was my goal and dream. It sparked me onto a different path."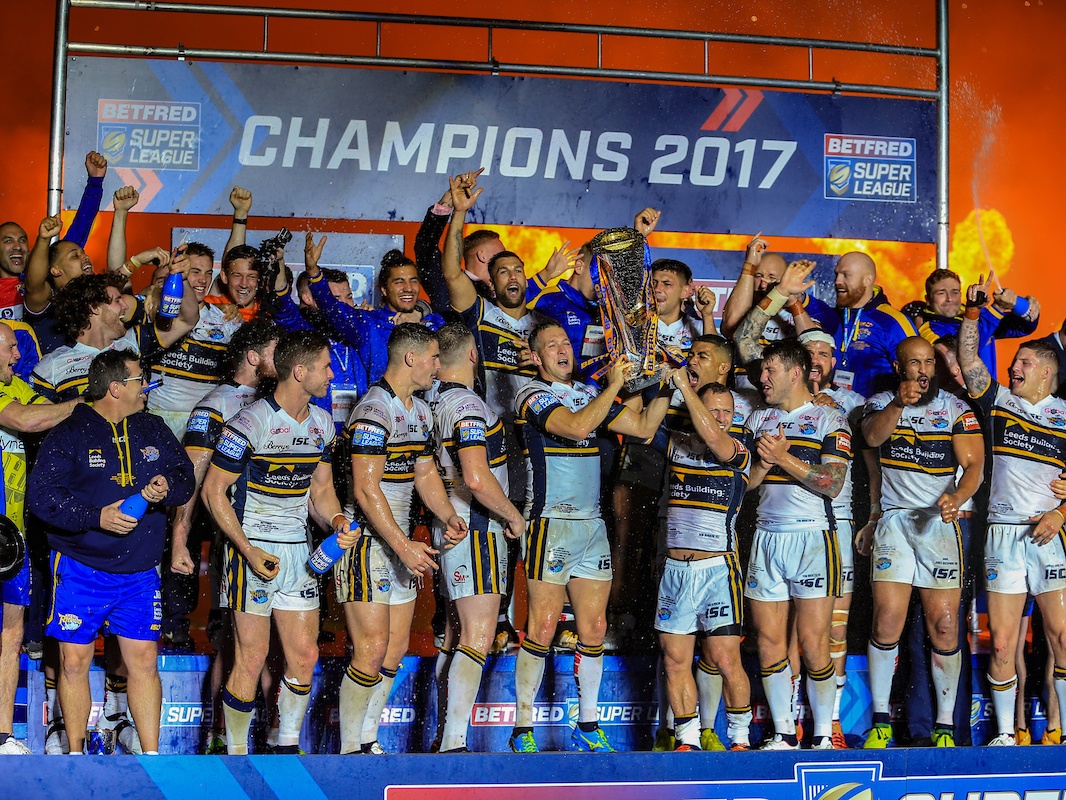 In keeping with his "turbulent" time at Leeds, the Rhinos once more went from one extreme to the other. Ravaged by injuries, they spent the 2018 season looking over their shoulders in the league table. McDermott ultimately lost his job as head coach.
Mullally spent a period sidelined due to a head injury and admits he returned to action too early. As a result, he struggled for confidence and form, with incoming director of rugby Kevin Sinfield allowing him some time away from the club to clear his mind by surfing in Cornwall, "although I couldn't say that at the time!"
Mullally says: "Kev was really good, he told me to come back when I'm right. I did, but I just wasn't playing well. I wasn't in it emotionally, physically. That was kind of the end. After that I came into pre-season and Kev told me I could look elsewhere."
A reunion with Brian McDermott took Mullally on another adventure to Toronto Wolfpack, dropping down a division to help the Canadian expansion side earn promotion from the Championship. He had heard rumours of wages getting paid late prior to signing, and the pandemic proved the death knell for the Wolfpack after owner David Argyle said he could no longer fund the club, prompting their withdrawal from Super League.
"It was always a bit dodgy, you'd always get paid a few days late or a week late and stuff like that. We always kind of thought it would be OK. The Championship season was fine, getting paid a little bit late here or there. We got into Super League and it was fine. Then COVID happened, and we didn't get paid one time for nearly two months. We got paid, and then we didn't get paid for nearly six months after that.
"It is what it is. We physically can't control what happens to us, all you can control in this universe of chaos is how we react. If I loosen my ideologies and pre-conceived notion of how things should be, then you can more easily slip through the gaps and adapt and enjoy life without having the pitfalls. So that's what I do, mate. I didn't get paid so I bought a van and moved down to Cornwall and lived there for four months working and surfing. It was probably the best summer I've had."
PARLONS CARCASSONNE XIII
Wouaw ! Une belle émission qui se prépare dans nos locaux ! Soyez prêts à 18h30 Amaël François interviewe Joe Drodrolagi Anthony Mullally @RobbieStorey10 .A voir sur la page Facebook du club:https://t.co/Pft1QRTpPP…#rugbyXIII #rugbyleague #CXIII pic.twitter.com/oSgbCiaIwO

— CARCASSONNE XIII (@CarcassonneXIII) November 12, 2020
Mullally made his latest move, to Carcassonne, in September. With more than his fair share of highs and lows in rugby league and a life philosophy that sees him look inward rather than outward for validation, what does success look like for him at this stage of his career?
"Success for me is the measurement of how happy you are," he says. "If you're content and happy then you're successful. If you've got a roof over your head and food in your cupboards and you're healthy in a healthy family, then you're successful. Anything above that is a luxury. 
"Obviously, I like more than that, but what I like isn't necessarily material-based. I like to surf, I like to climb, I like to be in nature. Success for me is how you align with your true purpose in a society that tries to tell you what your purpose is and what to follow. So if you deconstruct that and find out what your purpose is, that's success to me."
Mullally plans to return to life in his van in Cornwall once the French season ends in the summer. In July, he will host a Kudhva Retreat, hoping to help men reconnect not only with nature but also with their own sense of masculinity rather than the unhealthy stereotypes still perpetuated in many parts of society. Across three days, participants will take part in surfing lessons, breathwork, cold immersion and open group discussions.
"Masculinity is in itself an energy and it resides in us," Mullally says. "Obviously there's a polarity between masculine and feminine, and it's about trying to get back to where you are in yours. There are traits to it; purpose, integrity, generativity – these are the things for me, not dominance, strength, aggression.
"As well as the men's work, my purpose is to get back to nature, declutter my mind, declutter domestications of my mind from a young age, break it down" – with that, Mullally returns to his guiding principle since that trip to Australia a decade ago – "and just be free."