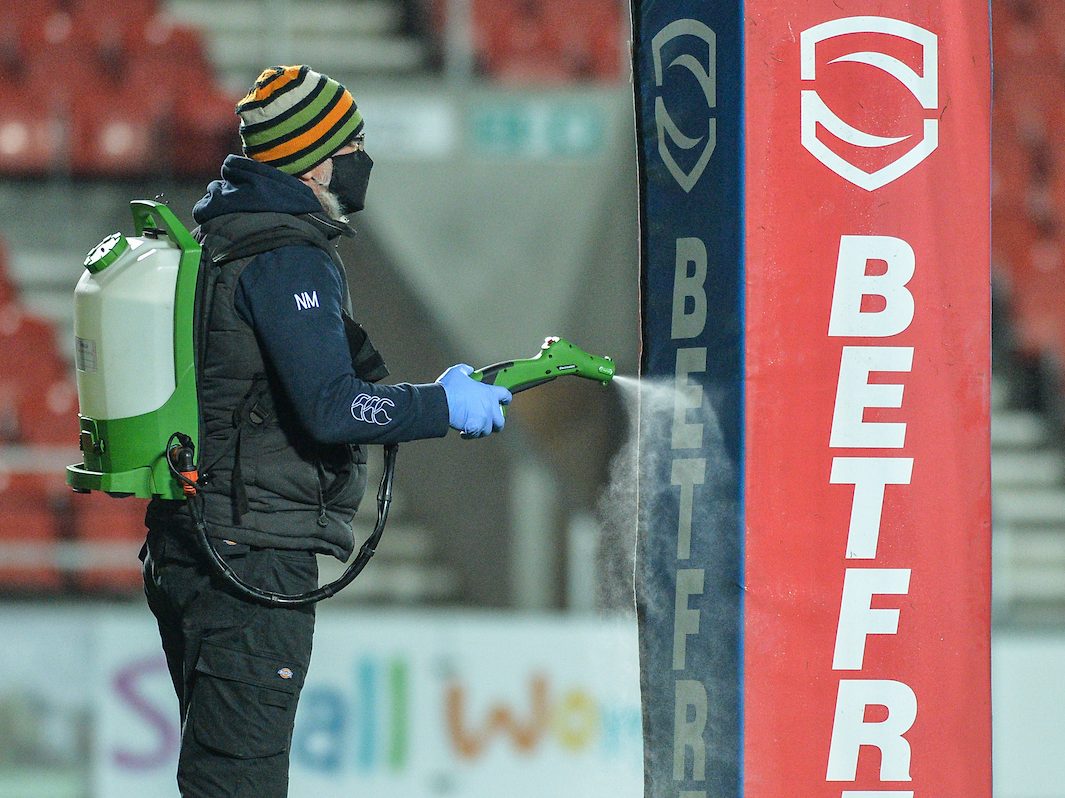 While the Super League kick-off later this month will grab the headlines, the return of the lower leagues, academies, the women's game and community game is most welcome.
But there's a warning that the whole of rugby league must follow its coronavirus protocols to avoid the sort of scrutiny that could put Super League, which generates the significant revenue that filters to all levels of the game, at risk.
Since last March, elite players have ultimately been training and playing with as minimal risk as possible in a rugby environment – but that changes as soon as academy, women's and even community clubs are allowed to train and play at the same facilities.
ROADMAP: Community game to return late March with roadmap announced
RFL Player Development Manager, Paul Medley, said: "The current government stipulations say that two positive tests classes as an outbreak, meaning say an academy training facility would have to be shut down for a fortnight.
"We are dealing with players who are not full timers. Players who are going to be at college, school or doing apprenticeships, from multiple environments where they are exposed.
"We only control 5% of their lives and while when they're in a secure bubble and they're with us everything can be great, we cannot control 95% of their exposure.
"If those players get COVID outside and bring it in, we could then have multiple cases. When we're bringing in more players, it puts the first team at risk.
"DCMS would not look at the individual club. They would look at rugby league.
"We cannot afford DCMS or Public Health England to put the microscope on rugby league which puts Super League potentially at risk."
The RFL have worked hard to bring back academy players, which they say simply was not possible last year due to the risk of COVID, health concerns and cost of testing.
Acknowledging the disruption suffered in the young people's lives, they were finally able to return earlier this week although there will be no formal competition in 2021.
Medley added: "The players don't want another disappointment. Lads were really struggling mentally because of the stop start.
"We decided to scrap the formal league competition for this year because we didn't want any problems with COVID lockdowns, plus the logistical issues of training and playing facilities.
"This group of academy players played nine matches in 2019. In 2020, they didn't play at all. What we don't want to do is have a programme where the sole focus is the competition.
"We want lads to get their fair share of minutes, rather than the added pressure of thinking 'we've got to win this week'.
"An academy is a place of learning. It's not solely about a group of Under 19s playing with a league table. Our academies' purpose is to develop players to transition to outstanding Super League or England players."
Super League players have of course been back in training for several months, ahead of their competition re-starting on March 25, which was delayed from the original March 11 estimate.
The Challenge Cup starts on March 19, including 13 Championship clubs and three from League One, before the Championship league season kicks off on April 1.
FINALLY: Women's Super League to return in April
The Women's Super League will start on April 18, with the League One competition following a month later.
Community rugby league training can begin from March 29, including Touch and Tag, with a phased return to contact; with the first friendly matches able to take place from April 24, and competitions to resume from May 8.
The RFL has issued detailed guidance for the return to play, which includes a number of COVID protocols and the required appointment of a COVID officer.
And amidst the excitement of the return of all levels of rugby league, there will be anxiety that everything runs as smoothly as possible to prevent any further disruption.
ALSO READ: Part-time teams won't be required to travel to Toulouse until quarantine restrictions are lifted