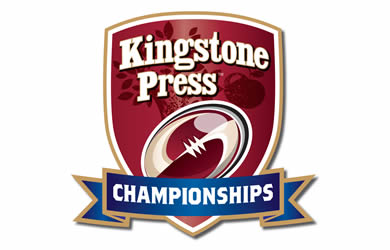 Mitch Stringer and Tony Miller were the big winners at the 2013 Kingstone Press Championships Awards night.
Sheffield prop Stringer beat off the competition of fellow shortlist members Paul Cooke (Doncaster) and Aaron Brown (Dewsbury), to win the Premier Sports Championship Player of the Year award.
Meanwhile Miller ended a 23-year association with Doncaster by winning the Kingstone Press Championship Coach of the Year, after guiding the Dons to a sixth-place finish on their return to the second tier of British rugby league.
The Championship Young Player of the Year award went to Ryan Brierley of Northern Rail Cup winners Leigh, while the Championship Club of the Year for 2013 is Halifax.
In the Championship One awards, there was a hat-trick of wins for league champions North Wales.
The Crusaders won the Championship One Club of the Year award while loose forward Jono Smith and head coach Clive Griffiths won the Championship One Player of the Year and Championship One Coach of the Year awards respectively.
Tyla Hepi, son of Gloucestershire head coach Brad Hepi, was crowned as the Championship One Young Player of the Year.
2013 Kingstone Press Championships Award Winners
Championship Player of the Year: Mitch Stringer (Sheffield Eagles)
Championship Young Player of the Year: Ryan Brierley (Leigh Centurions)
Championship Coach of the Year: Tony Miller (Doncaster)
Championship One Player of the Year: Jono Smith (North Wales Crusaders)
Championship One Young Player of the Year: Tyla Hepi (Gloucestershire All Golds)
Championship One Coach of the Year: Clive Griffiths (North Wales Crusaders)
Northern Star winner: Andy Jordan (Batley Bulldogs)
Referee of the Year: Chris Leatherbarrow
Championship Club of the Year: Halifax
Championship One Club of the Year: North Wales Crusaders
Match Officials Achiever: Mike Woodhead